Sell more, with easy Shopify payment plans
With our Shopify flow, you can offer flexible payment plans in minutes. Increase sales, not admin, with Paythen. No code or technical know-how needed.
No-code needed. Start your Paythen trial, configure some settings in Shopify and Zapier, and you're ready to go!
Payment plans make what you're selling more affordable to more customers. This helps expand your market, order value, and sales.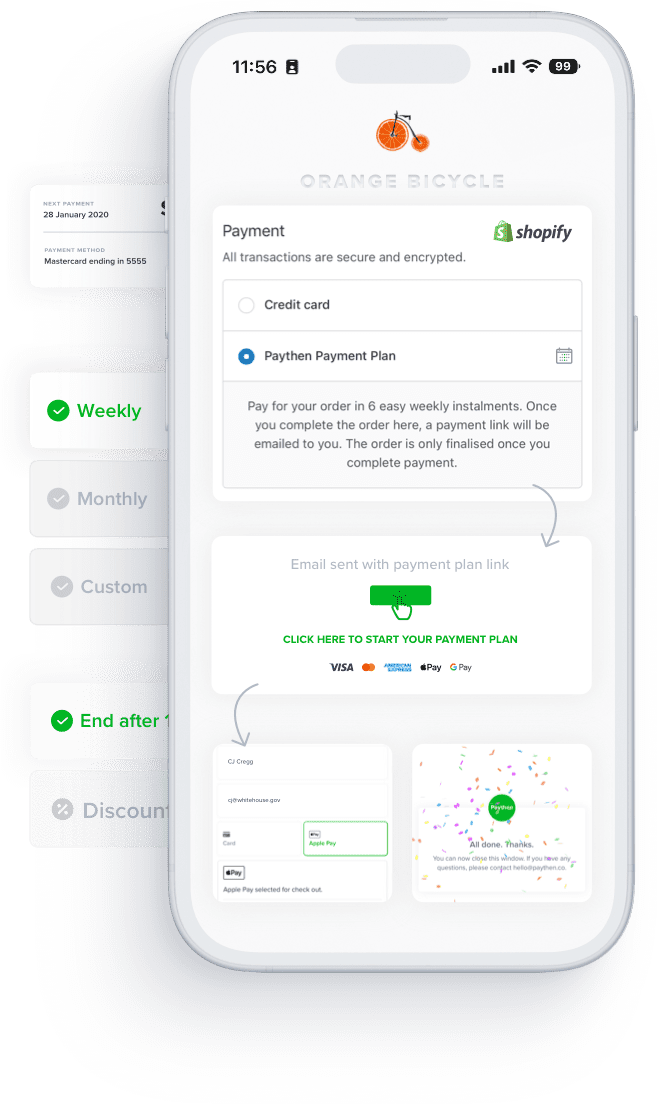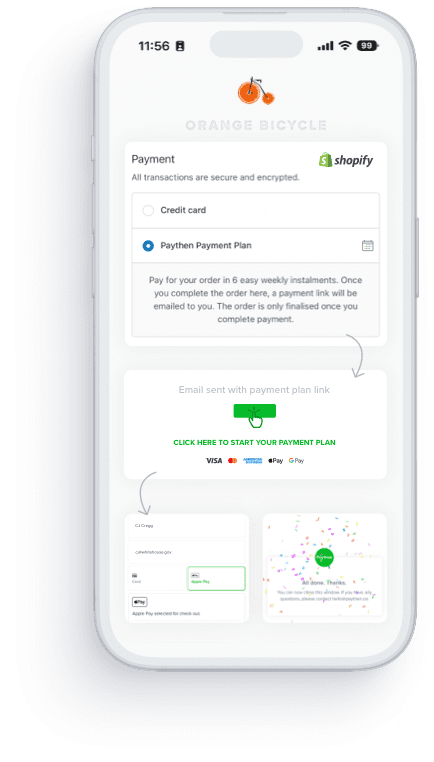 Unlike buy now pay later companies that limit your payment plans to suit them, Paythen puts you in control. Choose the billing interval – 8 weeks, 8 months or anything else you want, add surcharges, deposits and much more. It's your business – you're in full control. Here's an example of a Paythen payment plan page.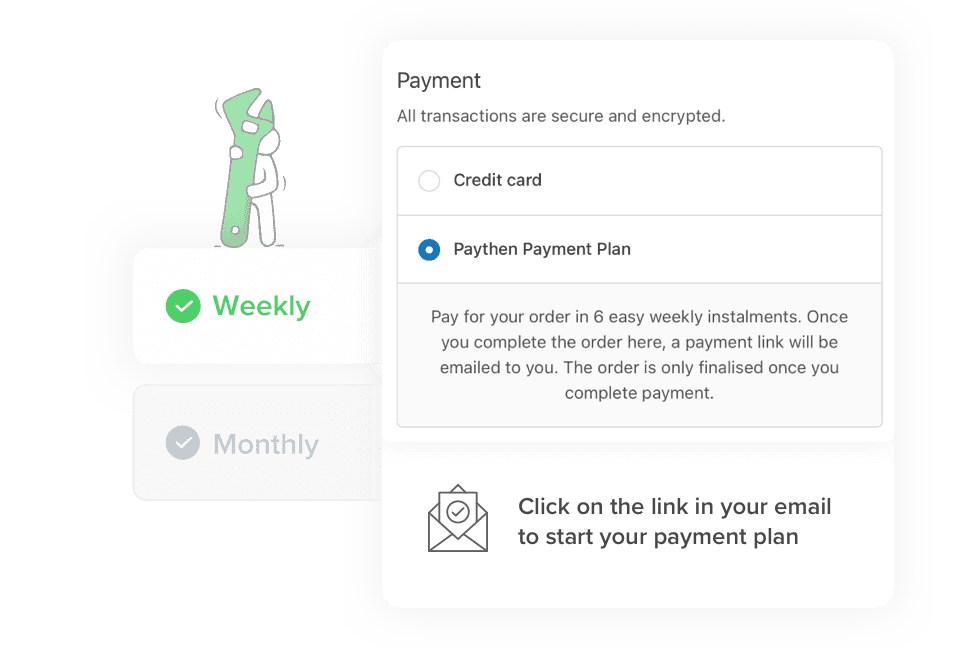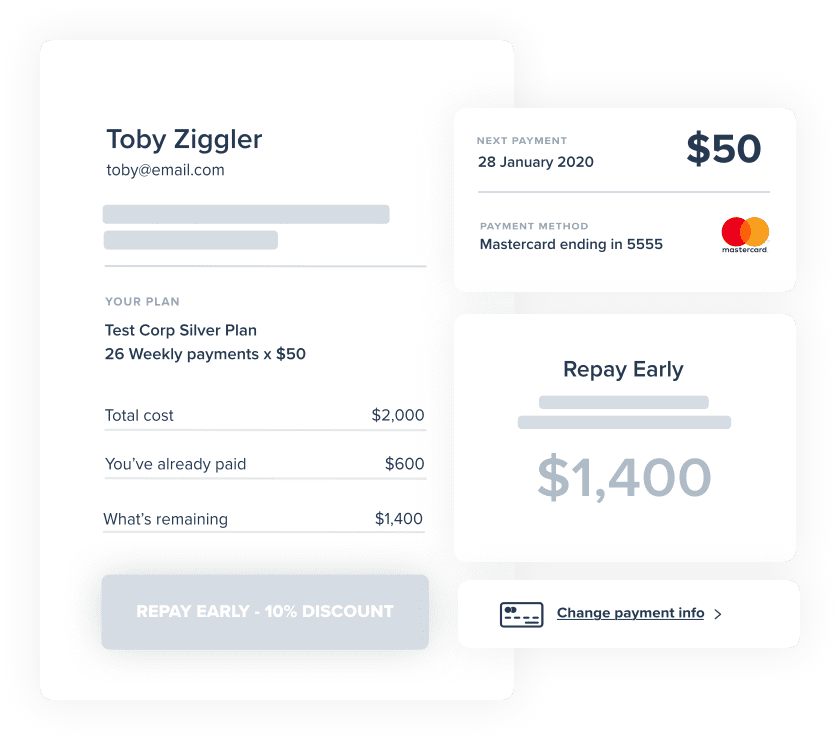 Let your customers help themselves while you reduce support costs.
With self-serve links like this one generated for each customer, your customers can see what they've paid, what they owe, repay early, change their card info, access receipts and more – via a secure link they can access 24 x 7. Reduce support and admin costs and delight your customers 😍
Less admin, automatic everything.
Customers get reminders before each scheduled payment, and there are automatic retries and automated follow-up emails if a payment fails. This reduces failed payments, chances of defaults, and eliminates manual follow-ups. You'll also get notified any time a payment fails so you're always in the loop.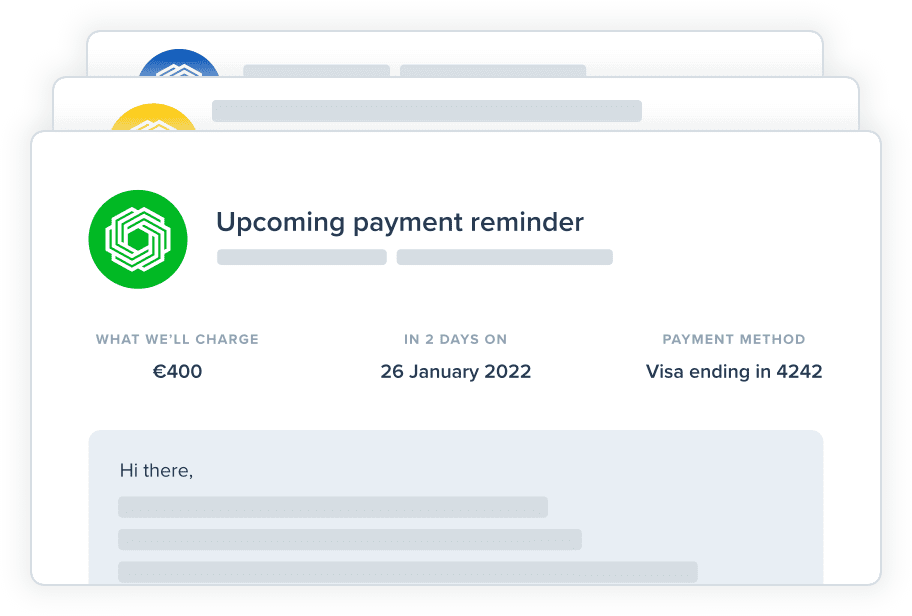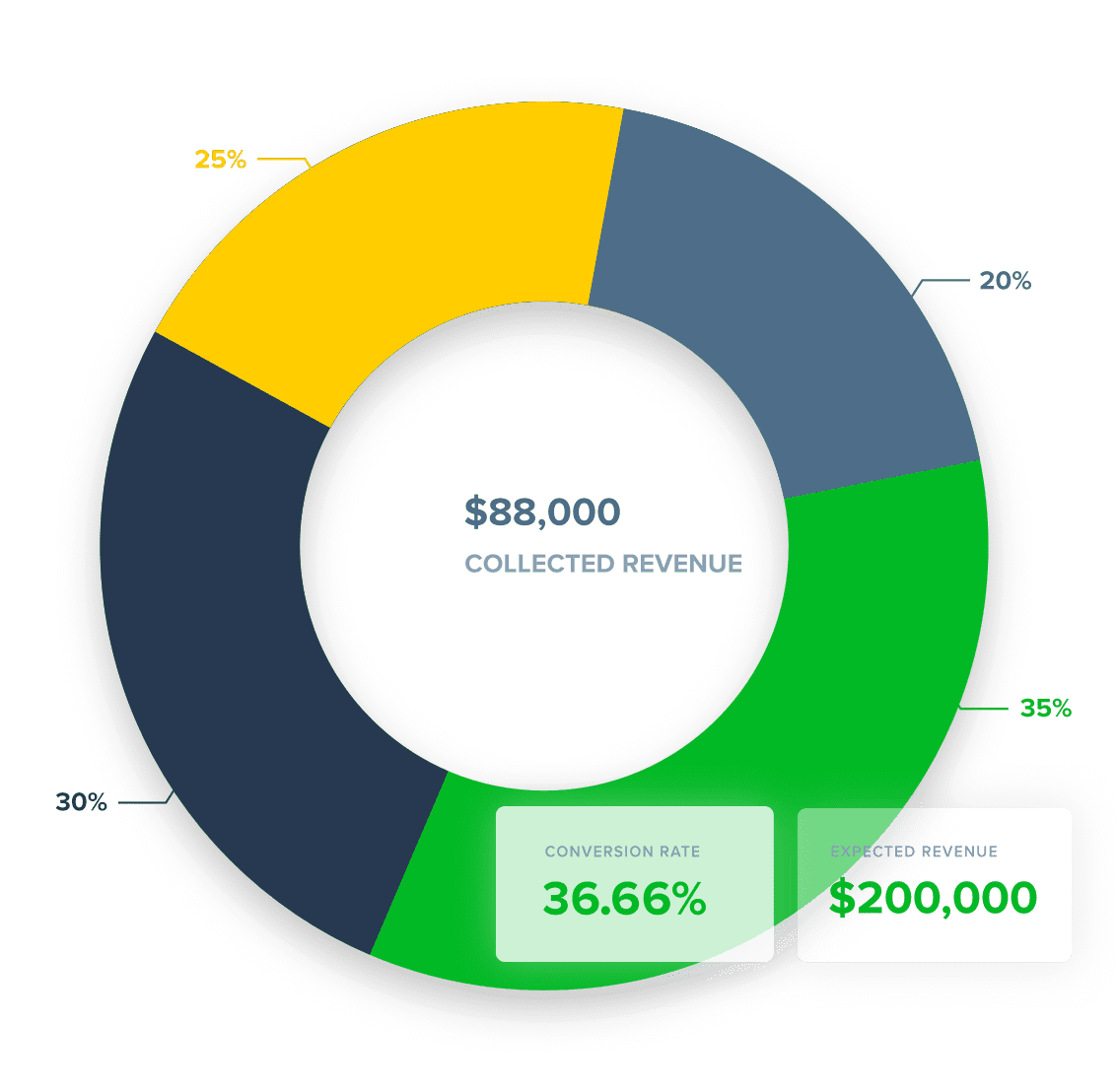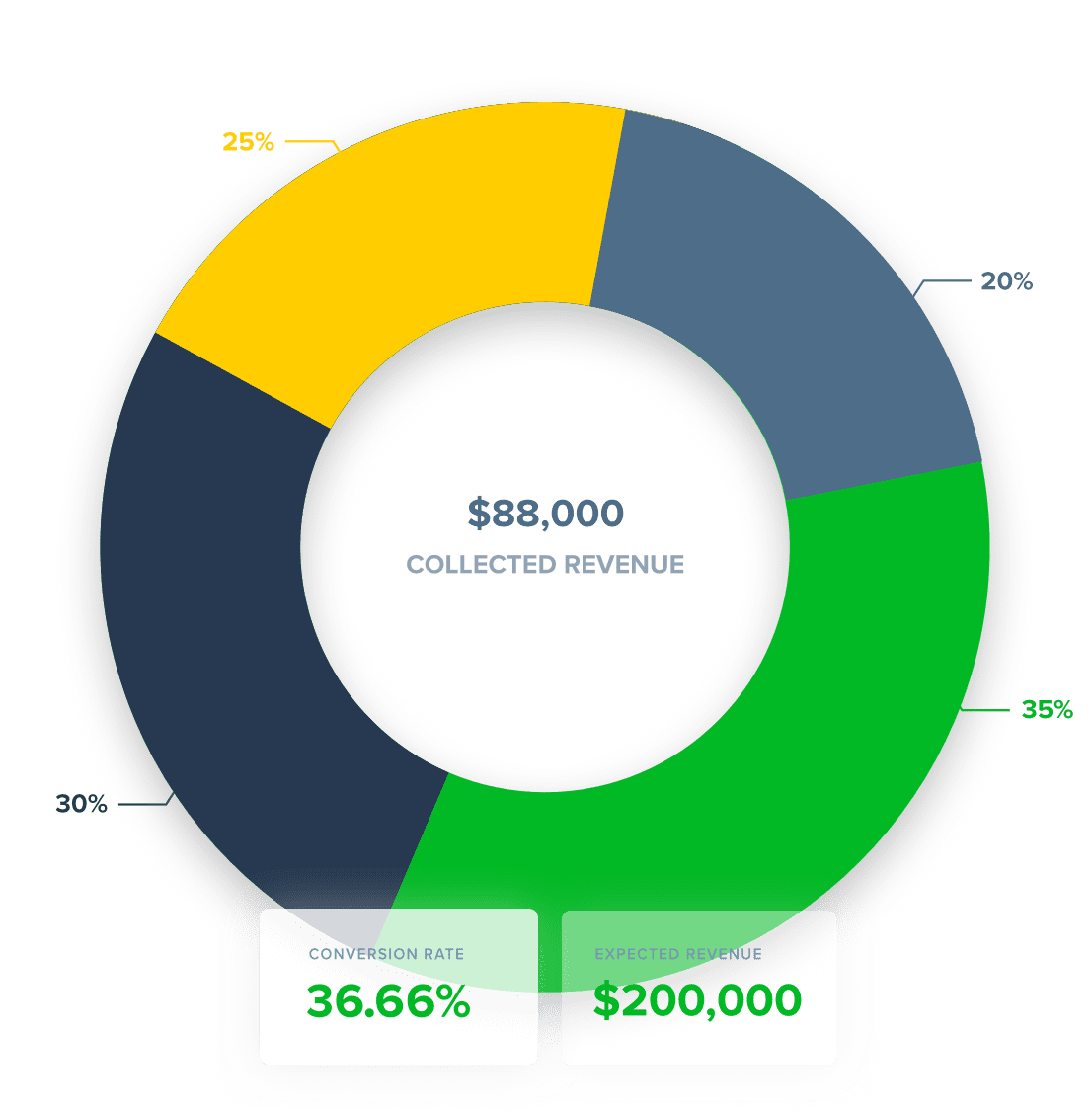 See useful reports you'll actually use
Instead of dozens of reports you'll never use, we show you key insights right on your dashboard – for the business, and for each customer.
Works with all your apps.
Supercharge your workflow by sending Paythen data to over 3,000 apps with Zapier – including Slack, Gmail, Google Sheets & more. We've highlighted some popular ones here.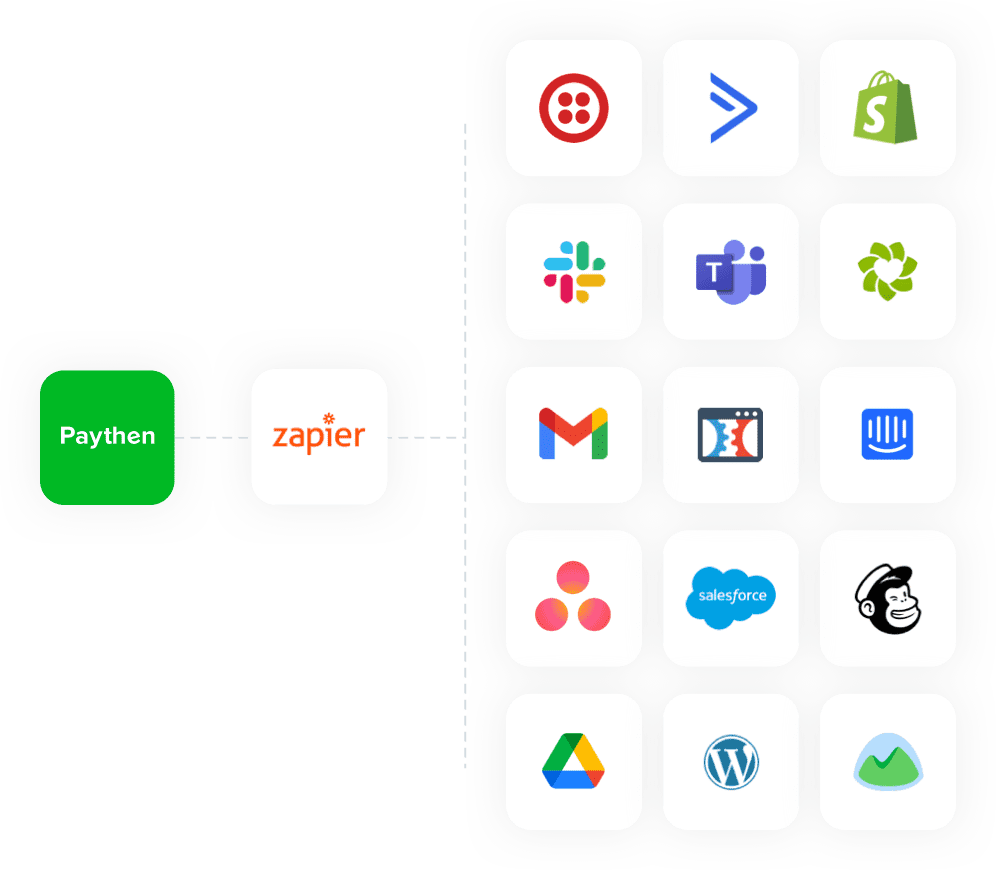 Because of limitations imposed by Shopify on third party payment apps, we are unable to offer a one-click Shopify app. However, with 15 minutes of setup time and a Zapier account, you can easily offer Paythen payment plans on your Shopify store and deliver a seamless experience for your customers.
Here are step-by-step instructions to set up this workflow using Zapier.
We're here to help if you need a hand. Here's how it works for your customers: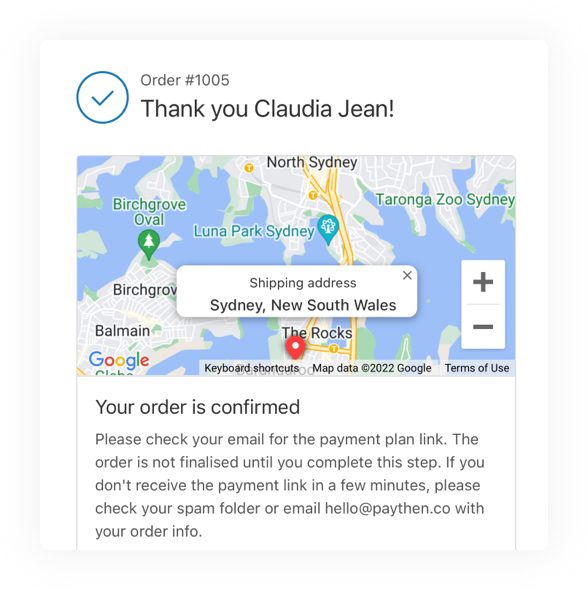 Your customers check out on your store like normal, but select the "Paythen Payment plan" option. The order is submitted and all details come through in the Shopify admin.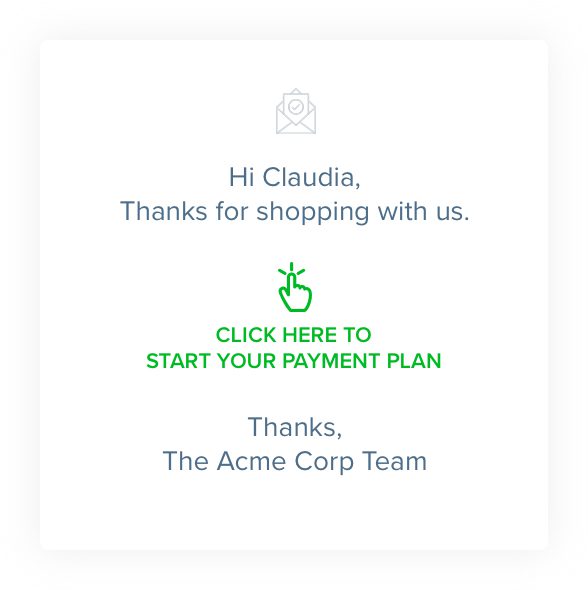 Your customers get an automatic email with their custom payment plan link that lets them pay and start their payment plan.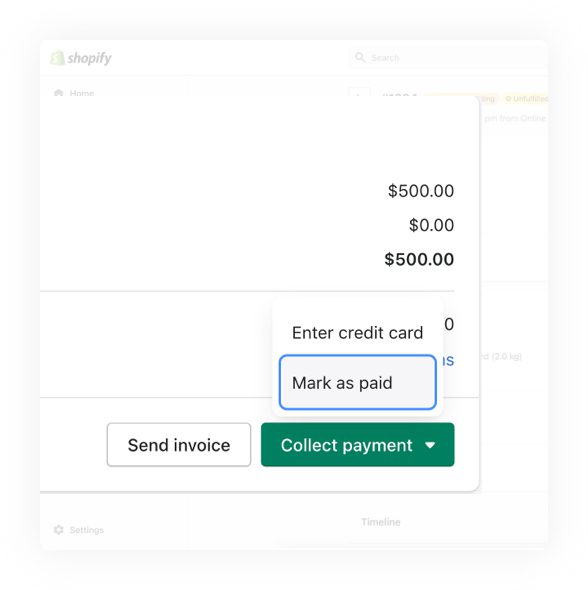 You update the payment status in Shopify to "Mark as Paid" and proceed with order fulfilment as you normally would. That's it!
Expand All
|
Collapse All
1.

Is there a Paythen app for Shopify? No. Here's why.

While you can use Paythen on your Shopify store with our recommended workflow using Zapier, there isn't a Paythen app for Shopify. We have been trying and continue to try to convince Shopify to let us have access to their Checkout API, however over the years, Shopify makes more money via "merchant services" than they do via your monthly subscription fees. These merchant services include Shopify Payments and various other Shopify add-on services you might be using.

For this reason, Shopify is increasingly limiting third party products like us from being able to access the Shopify APIs we need to provide you an even more seamless experience to setup and offer payment plans on your store. While we would love to offer a one-click more integrated setup to Shopify merchants like we do on WooCommerce, we are unable to do so at the moment. For now, the only way to use Paythen with Shopify is via the Zapier workflow we outline here. You can set this up on your store in about 15 minutes with these step-by-step instructions.

2.

Can I use Paythen with Shopify Payments?

Shopify Payments is a payments platform powered by the payment processor Stripe. This is the same payment processor used by Paythen. However, because of limitations with Shopify Payments, there is no way for you to use your Shopify Payments account with Paythen. To use Paythen, you'll need to create a Stripe account directly at stripe.com and then connect that to Paythen. Here are instructions on how to create and connect your Paythen and Stripe accounts.

This Stripe account is fully owned by you so isn't limited to being used with Paythen – you can use this with any other tool and on any platform – including Shopify.

3.

Can you help me set up Paythen on my Shopify store?

Yes we can. Just reach out to us via the chat icon below, or email hello@paythen.co and we'd love to help you get up and running with Paythen on your Shopify store. There is no charge for this 🙂

4.

Is Paythen a buy now, pay later service? How is it different?

No. Paythen is not a buy now pay later credit service like AfterPay. We use AfterPay as an example below, but the points below apply to most buy now, pay later services like Klarna, Affirm and many others.

Once you create a plan in Paythen, your customers get to choose to pay the full amount immediately or via a payment plan that you've defined. Both options require your customers to use their credit or debit card to pay. This means 100% of your customers can choose a payment plan option instead of only those that get approved for credit.

AfterPay is a credit service. With Paythen, your customers can get get a payment plan, but they can use their existing credit or debit card to do so.
AfterPay is like a mini-loan, with Paythen, there is no credit provided – this is not only more responsible, but also more flexible and better. Your customers get to choose how they want to pay, and which payment method they want to use, while you pay lower fees and deliver a better customer experience.
AfterPay has a fixed 8 week repayment period. This is rigid, and can still be very high for high value items. With Paythen, you can set the payment plan interval to whatever you want – weekly, monthly, fortnightly, or any other custom interval – and you also choose how long it goes for.
AfterPay takes away your direct relationship with your customer – and build their brand, instead of yours. With Paythen, there is little to no Paythen branding involved – we just give you the mechanism to offer split payments, while giving you the reporting and flexibility you need.
AfterPay takes away a big chunk of your profit margin with each transaction. With Paythen, you get to decide – you pay a low 1.4% per transaction with no monthly or other fees. You do pay the payment processing fee to Stripe, which is the payment processor.
Paythen is a complete billing and payment system that gives you ease of use, reporting and insights and important features for your customers whereas AfterPay and others are just credit providers.
Paythen is built on top of Stripe – the world's most popular (and in our opinion, the best) online payment processor. This means from day one, you can accept payments in hundreds of currencies.

5.

What is Zapier? How does it work?

Zapier is a tool that lets you send data between over 3,000 popular tools, in minutes, and with no code. At Paythen we've been using Zapier for many years to automate repetitive tasks, send data from one tool to another, get notifications where we want them, and so much more.

With Paythen's Zapier app, you can send customer data you've collected in Paythen, to any other tool you use, from Google sheets, Gmail, Slack, CRM systems and thousands of others. Here's an intro to Zapier to get started.

If you're new to Zapier, get ready to be blown away! Zapier will make you and your business 10x more productive.

6.

What does Paythen cost?

Paythen has no fees for the first 14 days during your free trial. After this, Paythen is just a low 1.4% per transaction. There are no other fees or charges. We get paid only when you do!

As with all billing systems, Paythen's fees are separate to Stripe fees.
You have options. We have answers. We're biased but we believe Paythen is an excellent, more flexible and customisable option for merchants to offer flexible, easy payment plans on Shopify.
The best option for payment plans on Shopify, if it's available to you.
Shop Pay Installments is only available to eligible merchants in in eligible industries, based in the U.S.
For totals over $1,000, your customers have to pay a high interest rate on purchases and have to undergo a credit check.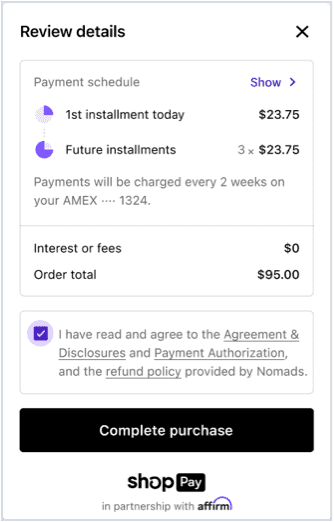 Buy now pay later companies like Afterpay, Klarna and others
You get paid upfront but you give away a large chunk of your profits, lose control of your brand, and most importantly, give away your customer relationships.
Only available in limited countries and your customer has to be in the same country.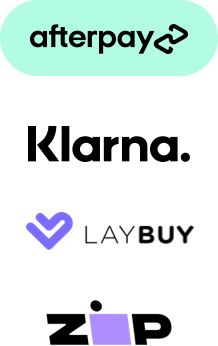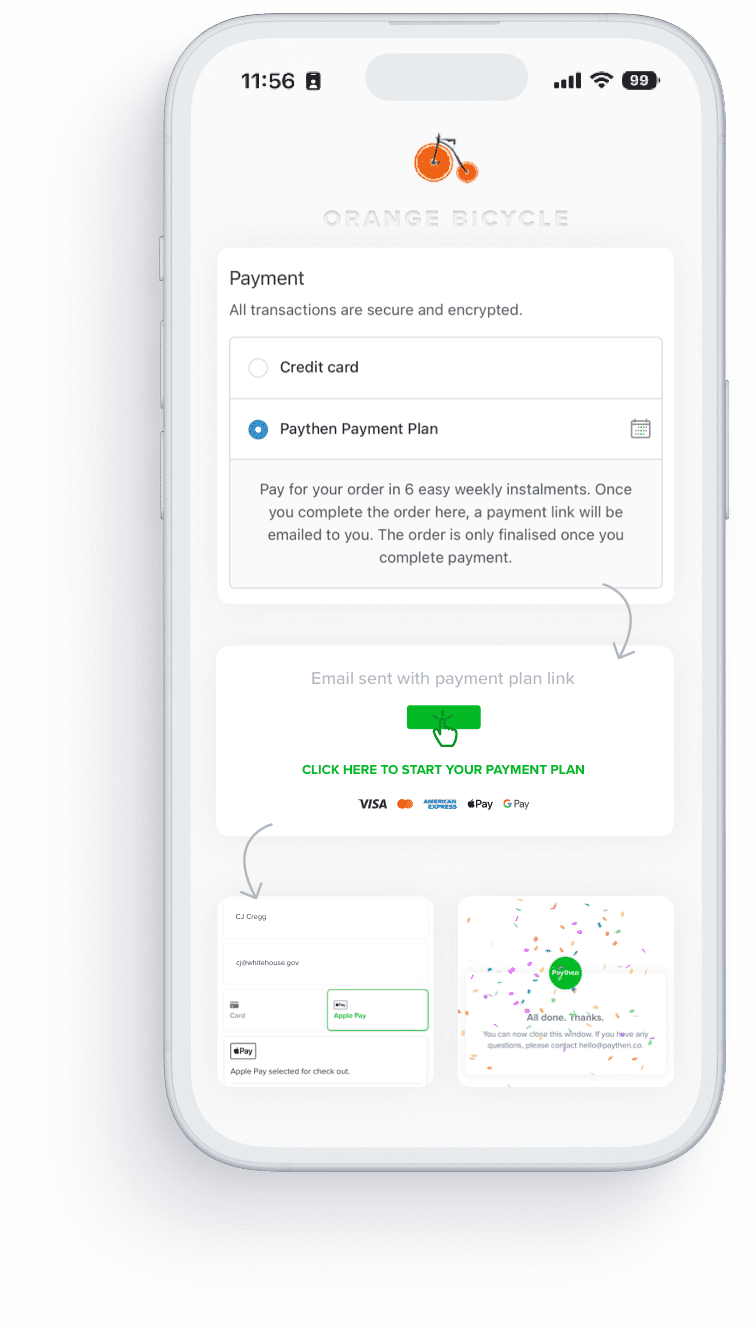 Increase sales, not admin with Paythen payment plans.
See if it works for you with a fee-free 7 day trial.
We'll ask you to connect your Stripe account or create a new one once you sign up. Paythen works with Stripe.
Easy payment plans
Offer your customers a flexible payment plan set by you, to increase conversions and sales.
Automated reminders & emails
We automatically send handy reminders before payments & follow-ups if a payment fails.
Integrate with other apps
Send Paythen data to over 3,000 other apps with our Zapier integration.
Encourage early repayments
Offer customers on a payment plan an easy way to repay early at any time – increasing your cashflow.
Change payment info easily
Your customers can change their card info anytime they want, with zero time spent by your team.
We get paid when you do
With our simple, low 1.4% fee, we only get paid when you do. No fixed or hidden fees. No fees during your free trial either.