Paythen is a better Splitit alternative
For your business and your customers
Here are some reasons why
👇
More than half your potential customers can't use Splitit. Splitit doesn't accept debit cards or American Express. Paythen does.
Splitit only works with Visa and Mastercard credit cards. According to a 2019 study by the US Federal Reserve, debit cards are used twice as often as credit cards. And this trend is only accelarating with younger people that don't have credit cards. With Splitit, you're saying no to all these potential sales.
With Paythen, you can accept credit cards, debit cards (including Amex, Mastercard, Visa, Discover, JCB, China UnionPay, and others), Apple Pay, Google Pay, and even Alipay for eligible transactions.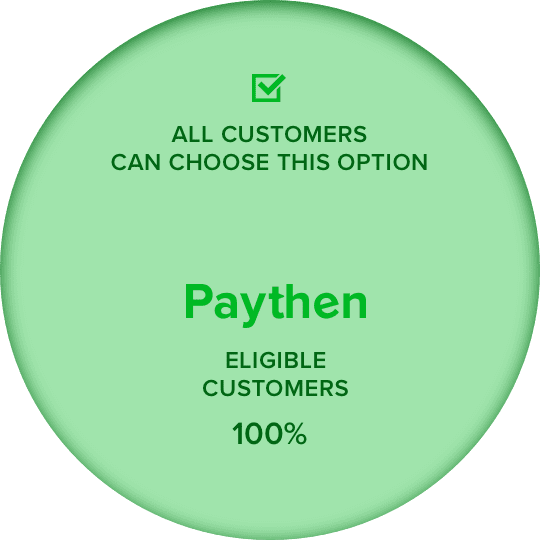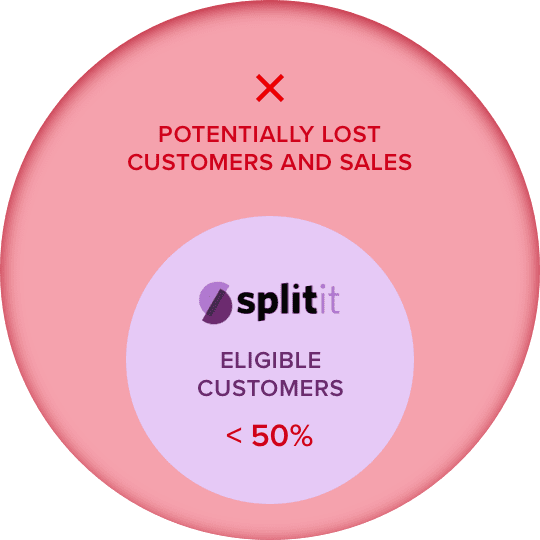 Splitit blocks the full amount of purchases on customer cards. This frustrates customers and leads to a poor experience.
Splitit holds the full amount of the purchase on your customers' credit cards from day one. This defeats the purpose of choosing a payment plan for many customers since people typically choose payment plans to help with cashflow. Splitit's approach can and often does lead to frustrated customers, especially since most don't realize how it works till after they've signed up and see a large hold on their card.
This is not a great way to drive repeat business and build trust in your brand. With Paythen, there is no such hold – customers just need to have the funds for each payment available on the due date.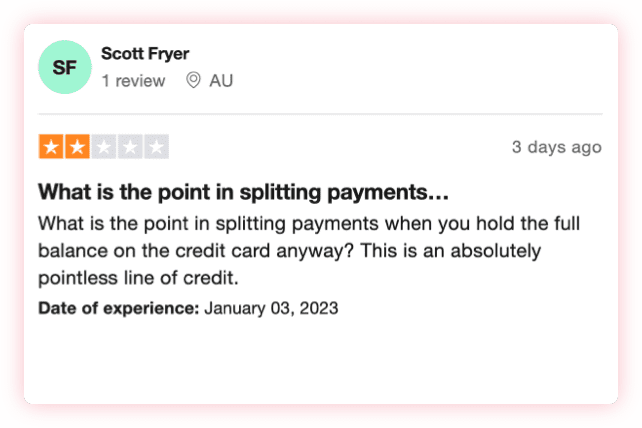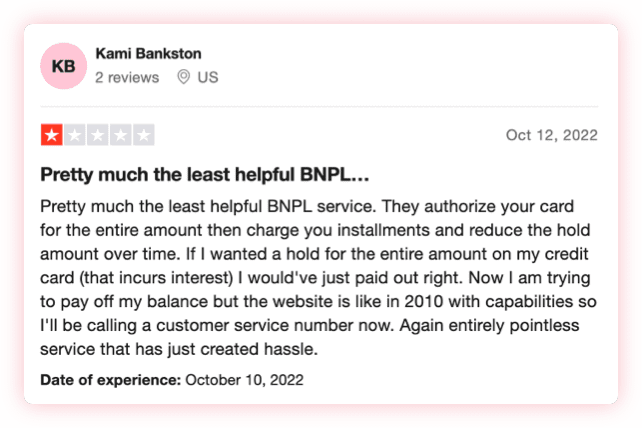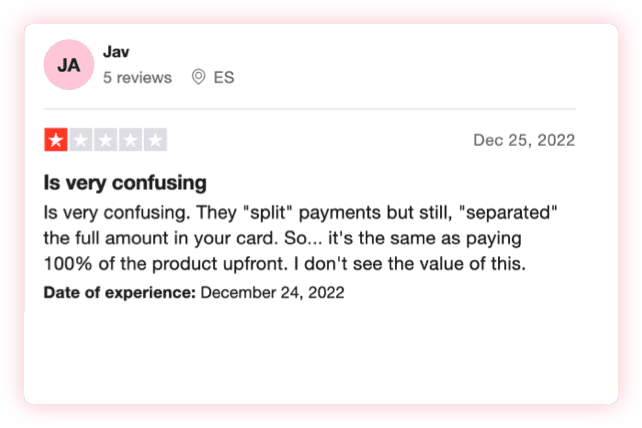 Paythen gives you more flexibility and control over your payment plan
Splitit only allows between 2 and 12 monthly repayments. With Paythen, you can set weekly, fortnightly, monthly, or even custom billing intervals to suit your business. With Paythen, you decide how fast you want to get paid. Splitit has a $10,000 order limit. Paythen does not – if you sell higher value services or products, you can use Paythen.
There are even more granular options you can customize in Paythen – payment plan terms, custom fields, incentives to pay upfront, incentives to repay early, discount codes, and more. Try it out with a fee-free 7 day trial.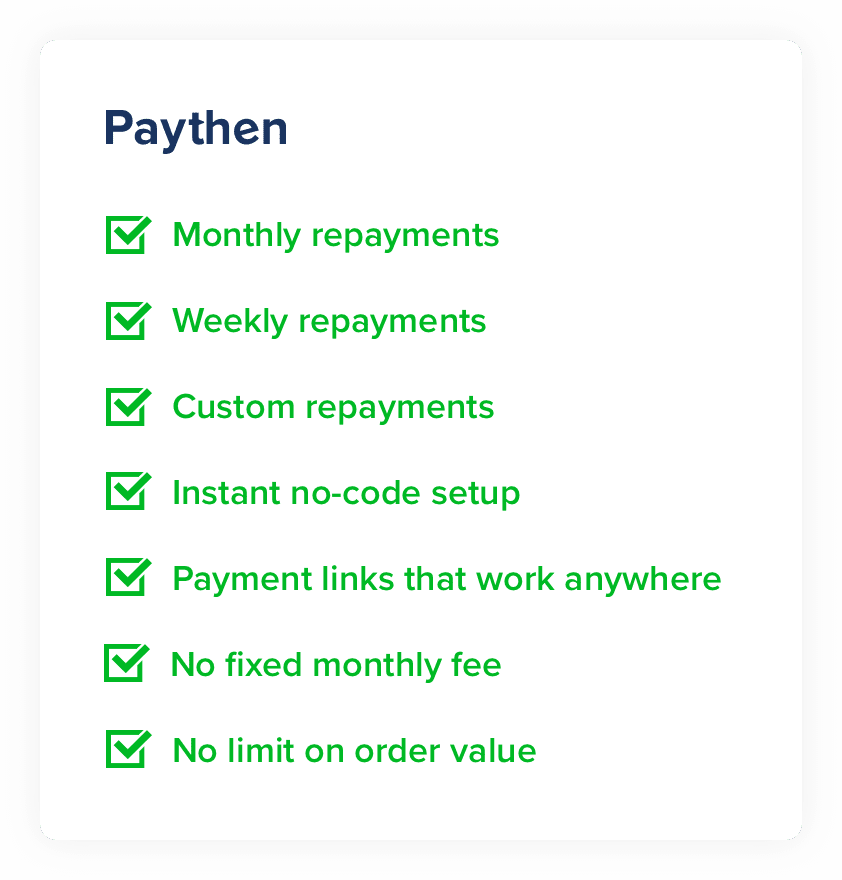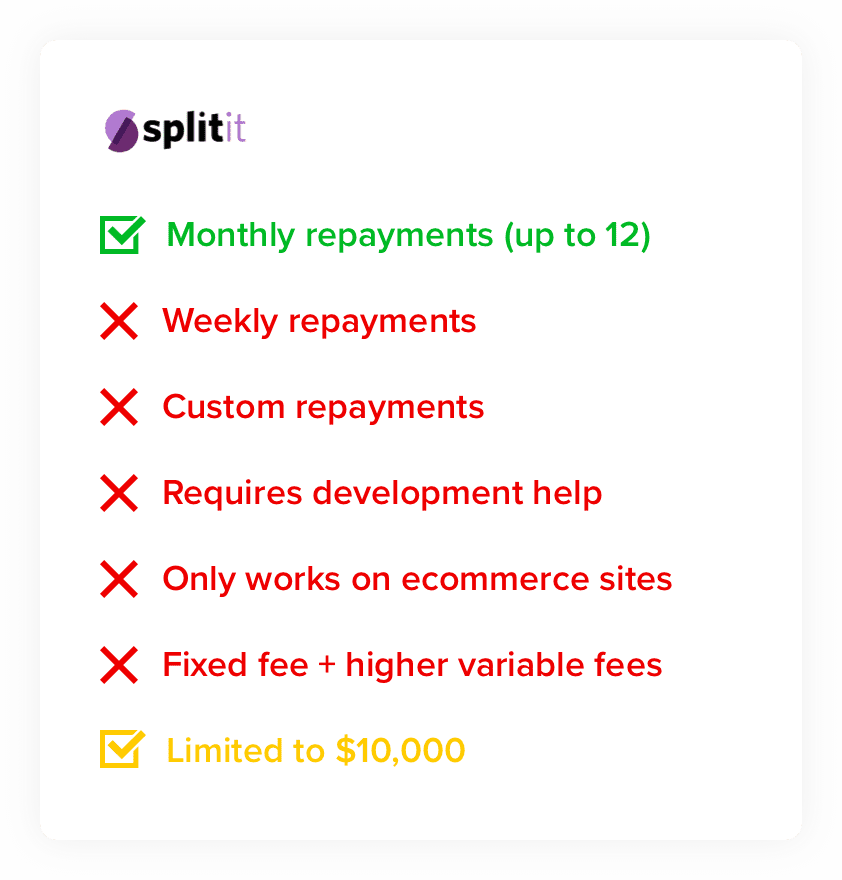 Paythen is better value than Splitit and has no fixed fees. We get paid only when you do.
Paythen has a fee-free 7 day trial, then a low 1.4% per transaction fee. That's it.
With Splitit, the fees add up – starting with a 1.5% – 6.5% transaction fee, another $1.50 per transaction and even another fixed monthly $75 fee! Paythen has no fixed or sneaky fees.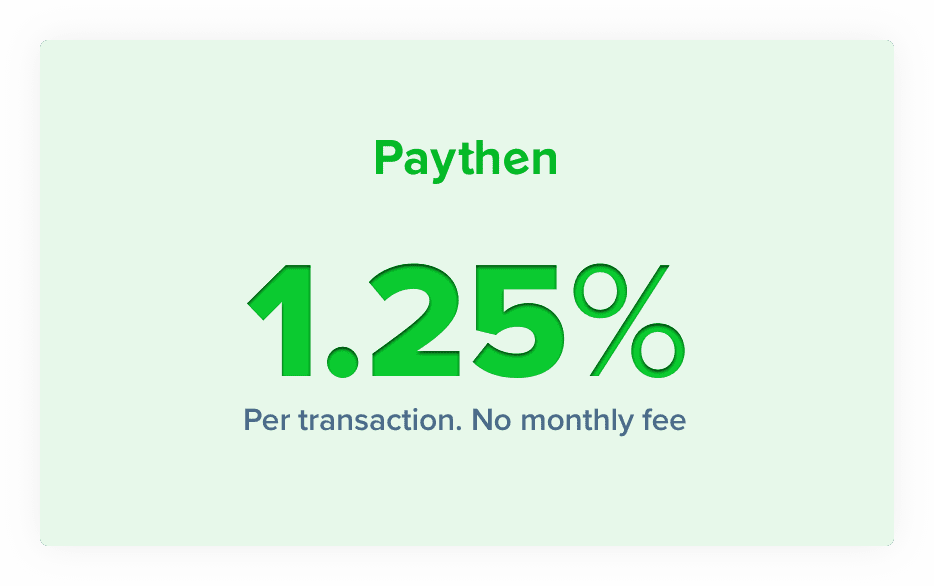 Paythen lets you send your data to your other systems – with our easy to use Zapier integration. Splitit doesn't integrate with Zapier.
Need a slack notification when you have a new payment plan? Easy. Want to send new customer data into your CRM? Also easy. Paythen has an easy Zapier integration that lets you send customer data from Paythen into your other systems – whether it's your CRM, communications tool, Google docs, or whatever else you use in your business, if it's on Zapier, you can send Paythen customer data to it. This ensures your payment plan system talks nicely with your existing tools – minimizing any additional admin.
You can see some examples of Zapier workflows here.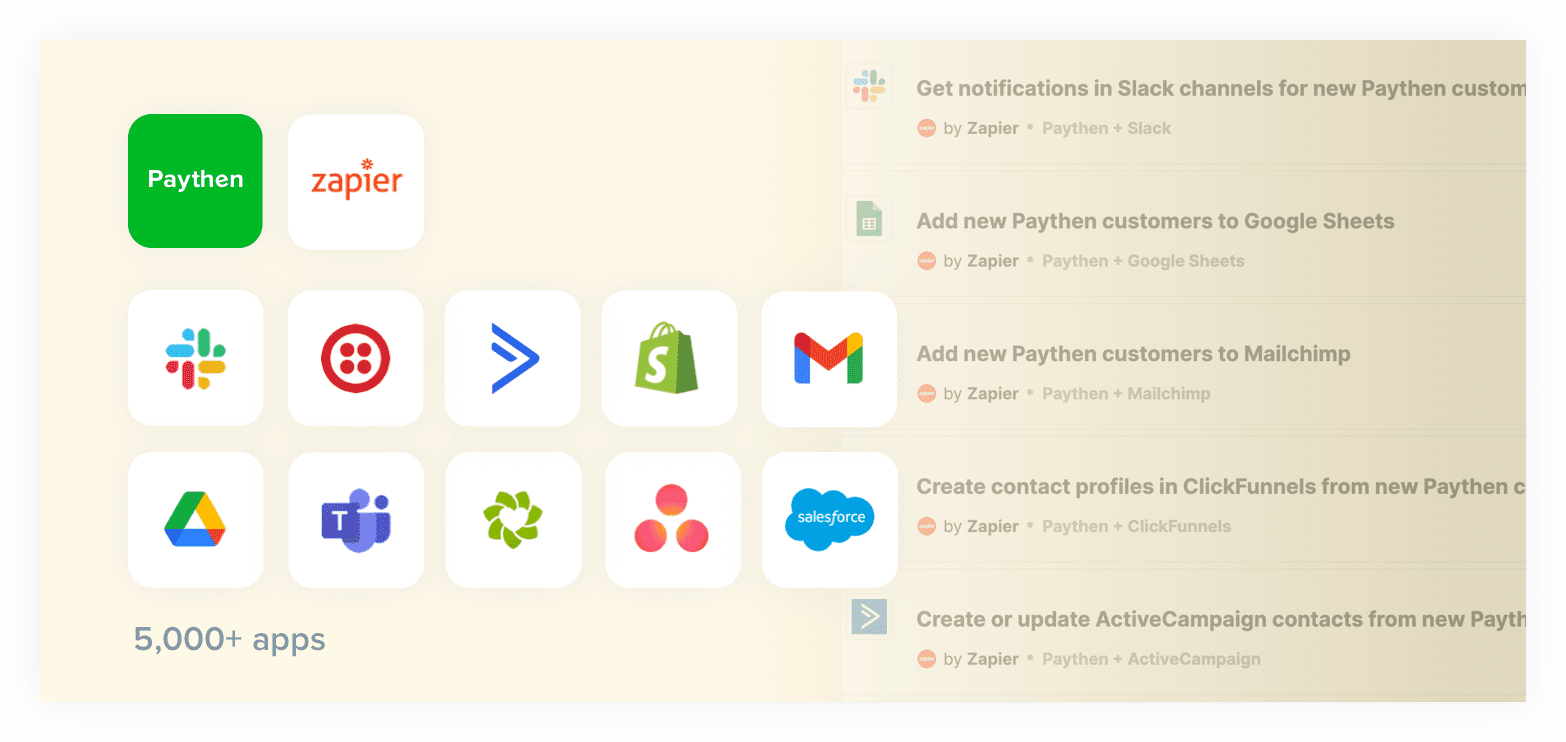 Better design and a better customer experience
This is subjective, but we believe Paythen delivers a better designed and more thoughtful experience for your customers during and after the initial purchase. With Paythen, in addition to beautifully designed payment pages with your logo and branding, each customer also gets their own unique and secure customer page that they can access anytime – no logins needed. They can use this to update their billing information, get receipts and repay early.
Every email they get from Paythen is designed to work perfectly on all devices and screen sizes and includes your logo, not ours. From the time customers sign up for a payment plan till they finish, they get a world-class experience, delivered by Paythen, on your behalf and with your branding.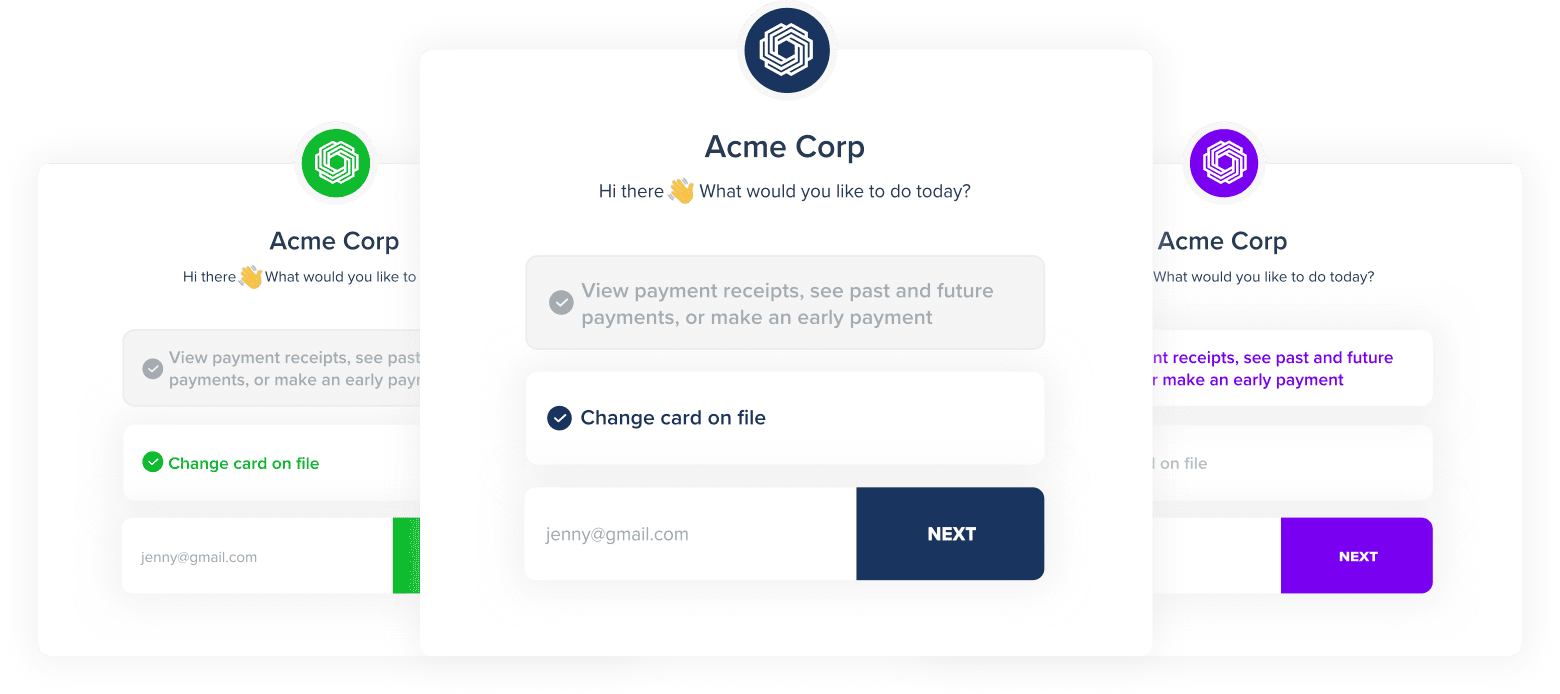 Paythen is designed for business owners and operators. Splitit is focused on Enterprise.
If you like powerful simplicity and jargon-free straight-talk, you might prefer Paythen over Splitit. While Splitit wants to empower the entire payments value-chain 🙄 we just want to empower you – the business owner – to have full control over your payment plans, with no added complexity.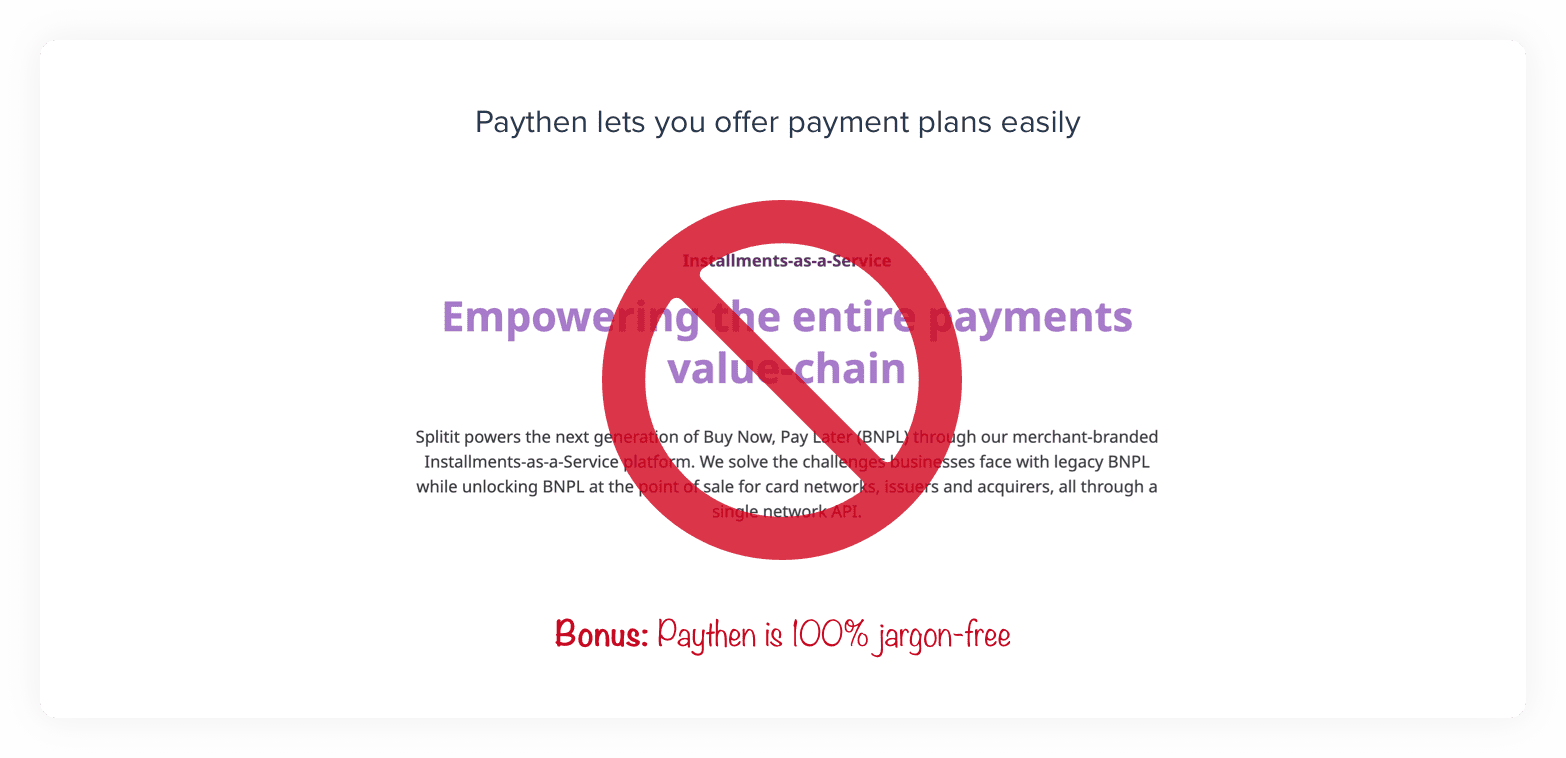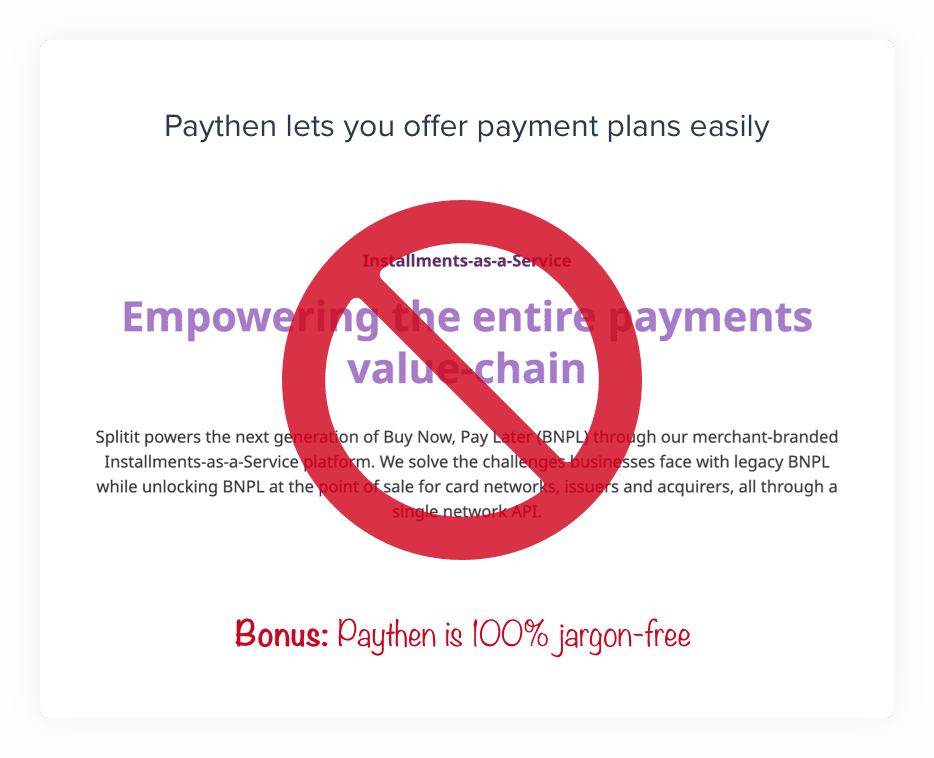 Splitit works only with an eCommerce site. Paythen works anywhere for any business – services, education, events, travel and more.
Paythen's simple but powerful payment links work everywhere – without even needing a website. You configure a plan and share the link for your customers to pay. Of course, you can also integrate Paythen into your site with our customizable embed buttons, WooCommerce plugin, or Shopify workflow.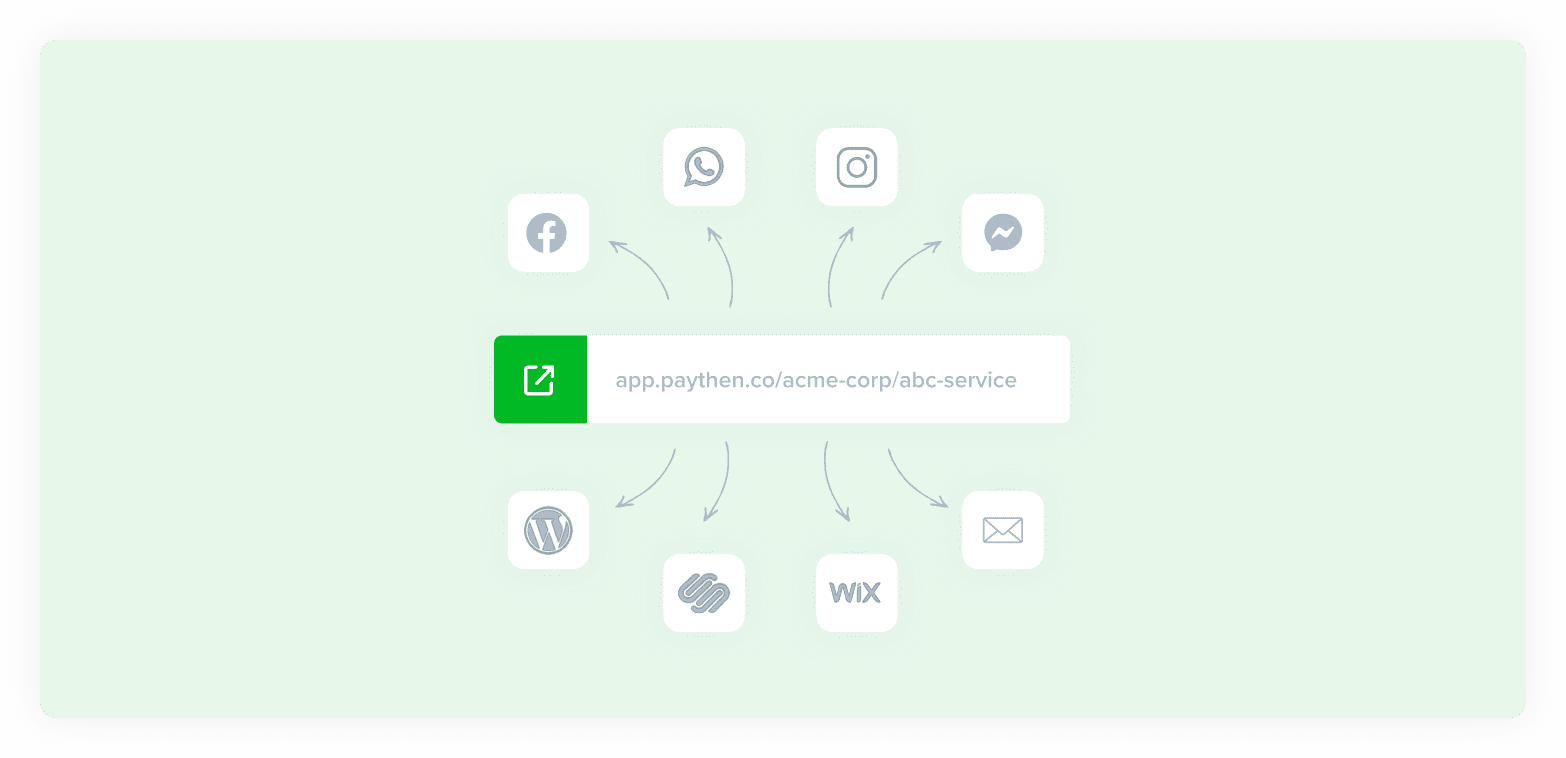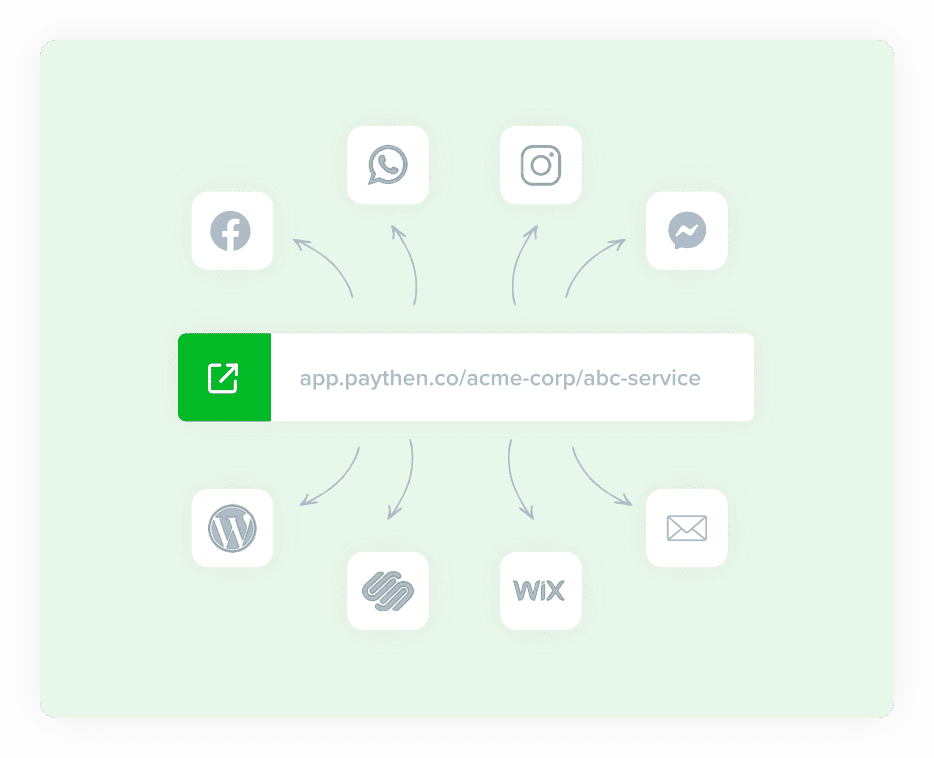 Expand All
|
Collapse All
Splitit is a buy-now-pay-later alternative available to eCommerce merchants. It is similar to Paythen, but costs more and is less flexible. Paythen can be used anywhere on any site, including but not limited to eCommerce. In fact, Paythen doesn't even need a site to work, since each plan link is hosted on its own page. Splitit works by allowing your customers to choose a payment plan option using their Mastercard or Visa credit card. Splitit blocks the full amount of the purchase on the customer's credit card upfront, and after each installment is paid, releases that amount. While this sounds great in theory (since it de-risks it for merchants), it also defeats the purpose of a payment plan for most customers – cashflow. Because Splitit blocks the full amount on customers' credit cards, it reduces their available credit – so instead of customers needing only the amount due for each installment available on their card, they need to have the full amount available.

One big limitation of choosing Splitit for payment plans is that right out of the box, only a portion of your customers can use it – Splitit is restricted to Visa and Mastercard credit cards only – according to a 2019 study by the US Federal Reserve, there were twice as many debit card transactions compared to credit cards. This trend is only accelerating – meaning that your payment plans will be available only to a small part of your customers that might want to use it. With Paythen, you can accept all major credit cards including American Express, debit cards, Apple Pay, Google Pay, and where eligible, even AliPay and iDEAL. With Paythen, your payment plan option will also be available to 100% of your customers instead of just a small portion.

       

Splitit is also more expensive than Paythen – 1.5% to 6.5% + $1.50 per transaction + $75 / month. Paythen charges only a low 1.4% per transaction.
If your business is doing more than $1m revenue, and you're based in one of a handful of countries, Splitit does have the option of you getting paid upfront – like traditional buy-now-pay-later providers. This can be useful if it works for business model and with your margins.
Splitit is primarily targeted at large Enterprise – you can tell from their site and the jargon and buzzwords they use – this makes sense since they are a publicly listed company that needs to do quarterly earnings calls to show investors they are constantly growing. Paythen is a small but dedicated business targeted specifically at small business owners and operators. We exist purely to ensure you can offer flexible, powerful payment plans with minimal admin or hassles. With Paythen, you get friendly, fast support and no sneaky, hidden fees.
Paythen works with Stripe – which is in our opinion, one of the best, if not the best payment processors in the world. They are certainly one of the most innovative companies in the world – and are constantly making payments faster, cheaper and more secure for businesses everywhere in the world. Splitit works with a few payment providers, unfortunately not Stripe. Paythen works only with Stripe because we believe they are the best at what they do and since they started, have focused on constantly making payments better and simpler for their customers.

If you haven't already, you can see some benefits of choosing Paythen as your payment plan provider over Splitit here. The best way to see if Paythen is right for you is to try it yourself. It's risk-free to try with our 14 day trial during which you don't pay any Paythen fees. No credit card needed too.

2.

How does Splitit work for merchants?

Splitit is a payment plan tool that allows merchants to offer payment plans to their customers. Unlike other buy-now-pay-later companies, there are no credit checks or approval process for customers.

When your customers make a purchase, Splitit charges the first installment payment and the full amount of the purchase is held on the customer's credit card too. As a customer pays the installments, the amount that is held is reduced. While this sounds good in theory as a merchant, most customers don't like it as it reduces their available credit and defeats the point of them choosing a payment plan in the first place.

To use Splitit, customers must have enough available credit on their credit card for the full amount of the purchase. The held amount typically appears as a "pending transaction" on their credit card statement. For this reason, Splitit only works for customers that have a Visa or Mastercard credit card. This does limit the portion of your customers that can use the payment plan option.

Splitit only works on eCommerce sites – whereas Paythen works anywhere, on any site, and even without a site. Each plan in Paythen gets it's own unique link that can be shared with your customers wherever they are - like Whatsapp, Linktree, Facebook groups and more – leading a to faster, friction-free checkout anywhere.

Paythen is a better payment plan alternative for many businesses because it is faster and easier to set up, works with all major credit and debit cards, and has lower fees than Splitit. Your customers will also prefer Paythen – because we don't hold the full amount on their cards, and they get a smoother, better designed experience both during and after the initial payment. We have various built-in automations and tools that reduce admin for you and let customers help themselves. You can try Paythen fee-free for 14 days to see if it is suitable for you.

3.

How does Splitit work with debit cards?

Splitit does not work with debit cards 🙁 It only works with Visa and Mastercard credit cards. Splitit doesn't work with American Express credit or debit cards either. This is unfortunate since a 2019 study by the US Federal Reserve found that there are typically twice as many debit card transactions vs credit cards. Younger people are increasingly choosing debit cards instead of credit cards too. With Splitit, anyone wanting to pay for their payment plans with debit cards can't do so – leading to fewer sales and potentially many missed sales and opportunities to get new customers.

Fortunately, there is a better alternative to Splitit that allows your customers to pay for their payment plan with debit cards, credit cards, Apple Pay and Google Pay. Paythen works with all major credit and debit card brands and even some region-specific cards like Discover, China UnionPay and JCB. With Paythen as your payment plan option, 100% of your customers will be able to choose the payment plan option instead of only a small portion that have Visa or Mastercard credit cards.

If you want to offer all your customers the ability to choose payment plans to increase your sales and revenue, Paythen is a better alternative than Splitit. We're biased but you can see more reasons why we believe Paythen is a better option than Splitit for payment plans.

4.

Is Paythen a buy now, pay later service? How is it different?

No. Paythen is not a buy now pay later credit service like AfterPay. We use AfterPay as an example below, but the points below apply to most buy now, pay later services like Klarna, Affirm and many others.

Once you create a plan in Paythen, your customers get to choose to pay the full amount immediately or via a payment plan that you've defined. Both options require your customers to use their credit or debit card to pay. This means 100% of your customers can choose a payment plan option instead of only those that get approved for credit.

AfterPay is a credit service. With Paythen, your customers can get get a payment plan, but they can use their existing credit or debit card to do so.
AfterPay is like a mini-loan, with Paythen, there is no credit provided – this is not only more responsible, but also more flexible and better. Your customers get to choose how they want to pay, and which payment method they want to use, while you pay lower fees and deliver a better customer experience.
AfterPay has a fixed 8 week repayment period. This is rigid, and can still be very high for high value items. With Paythen, you can set the payment plan interval to whatever you want – weekly, monthly, fortnightly, or any other custom interval – and you also choose how long it goes for.
AfterPay takes away your direct relationship with your customer – and build their brand, instead of yours. With Paythen, there is little to no Paythen branding involved – we just give you the mechanism to offer split payments, while giving you the reporting and flexibility you need.
AfterPay takes away a big chunk of your profit margin with each transaction. With Paythen, you get to decide – you pay a low 1.4% per transaction with no monthly or other fees. You do pay the payment processing fee to Stripe, which is the payment processor.
Paythen is a complete billing and payment system that gives you ease of use, reporting and insights and important features for your customers whereas AfterPay and others are just credit providers.
Paythen is built on top of Stripe – the world's most popular (and in our opinion, the best) online payment processor. This means from day one, you can accept payments in hundreds of currencies.

Stripe is the world's leading payment processor — they handle the underlying payment infrastructure to ensure your customers' payment information is secure. Millions of businesses across the world use Stripe as their payment processor. Paythen works with, and requires, Stripe. When you start your free Paythen trial, you can connect your existing Stripe account or create a new one in seconds. Paythen is a Stripe verified partner.

6.

What does Paythen cost?

Paythen has no fees for the first 14 days during your free trial. After this, Paythen is just a low 1.4% per transaction. There are no other fees or charges. We get paid only when you do!

As with all billing systems, Paythen's fees are separate to Stripe fees.
Should I choose Paythen or Splitit?
The only way to find out whether Paythen or Splitit is more suitable for your business is to try them. We're biased but we believe Paythen is a better solution for many businesses that want to offer payment plans. It is more flexible, designed for small and medium sized businesses, requires no technical setup and typically takes about 3 minutes to set up. It also comes with fast, friendly customer service and a 7 day fee-free trial you can start now.
See some examples of Paythen plans and links in action. Complete payments using test cards.

Let your WooCommerce customers pay over weekly, monthly or custom installments via a fully integrated experience.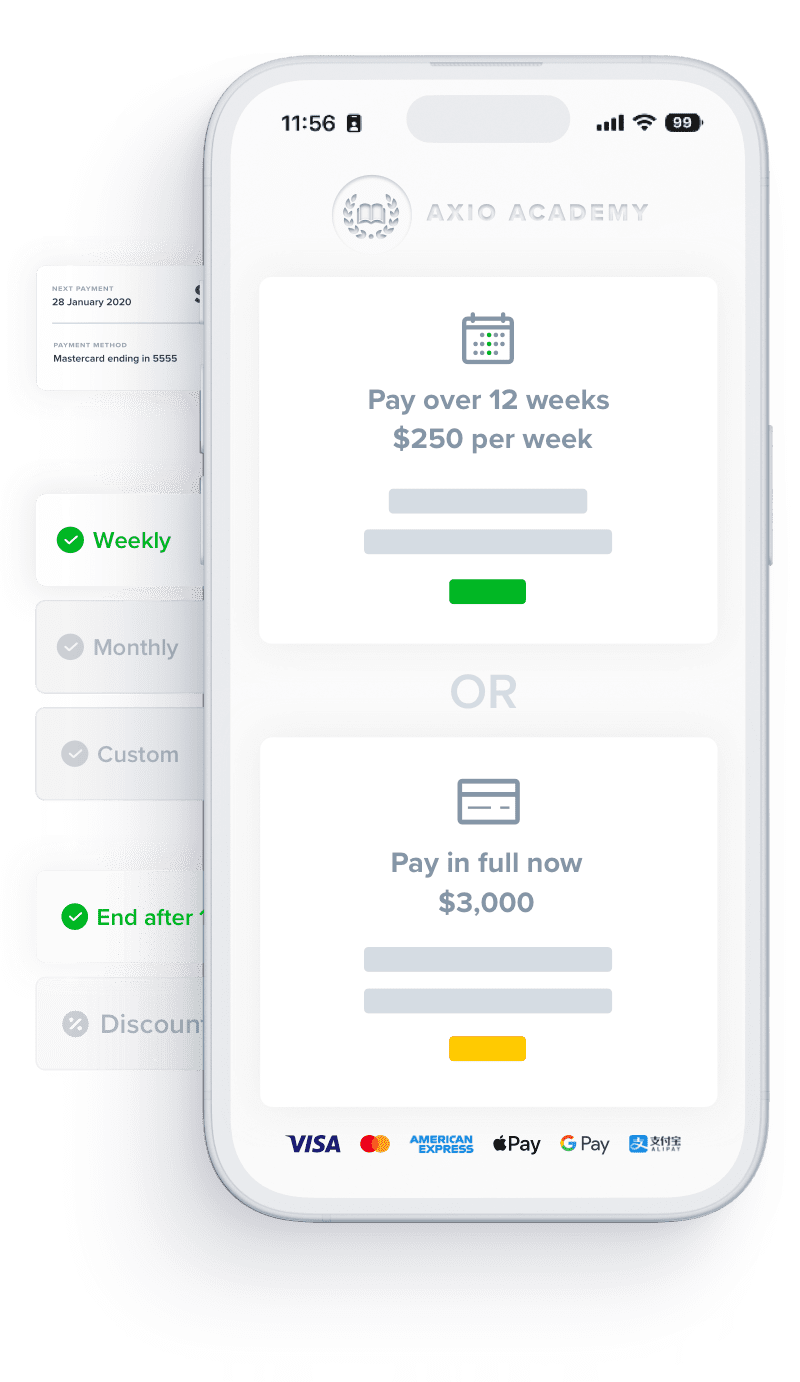 Paythen is a better Splitit alternative for payment plans
See if it works for you with a fee-free 7 day trial.
We'll ask you to connect your Stripe account or create a new one once you sign up. Paythen works with Stripe.
Easy payment plans
Offer your customers a flexible payment plan set by you, to increase conversions and sales.
Easy payment links
An easy to share payment link that works on any website and any device - matching your brand.
Four payment types
Offer subscriptions, payment plans, one-off payments or let your customers choose.
Automated reminders & emails
We automatically send handy reminders before payments & follow-ups if a payment fails.
Change payment info easily
Your customers can change their card info anytime they want, with zero time spent by your team.
Integrate with other apps
Send Paythen data to over 3,000 other apps with our Zapier integration.