Paythen is easy-to-use payment plan management software that lets businesses in 40+ countries offer easy payment plans to their customers. Paythen gives you all the tools to create, offer and manage payment plans with useful, simple reporting.
Here's an overview of what we cover in this post. While it's best to read it from start to finish, you can jump down to any section directly.
What is payment plan management software?
Payment plan management software like Paythen makes it easy for businesses in 40+ countries to offer flexible payment plans to their customers, in over 130 currencies. With Paythen, you get a full admin management dashboard that lets you easily track all your customers' payment plans — including what you've collected vs. what is remaining, for each customer, each product, and for your entire business. Start your free trial to see if it works for your business. No credit card or technical know-how needed.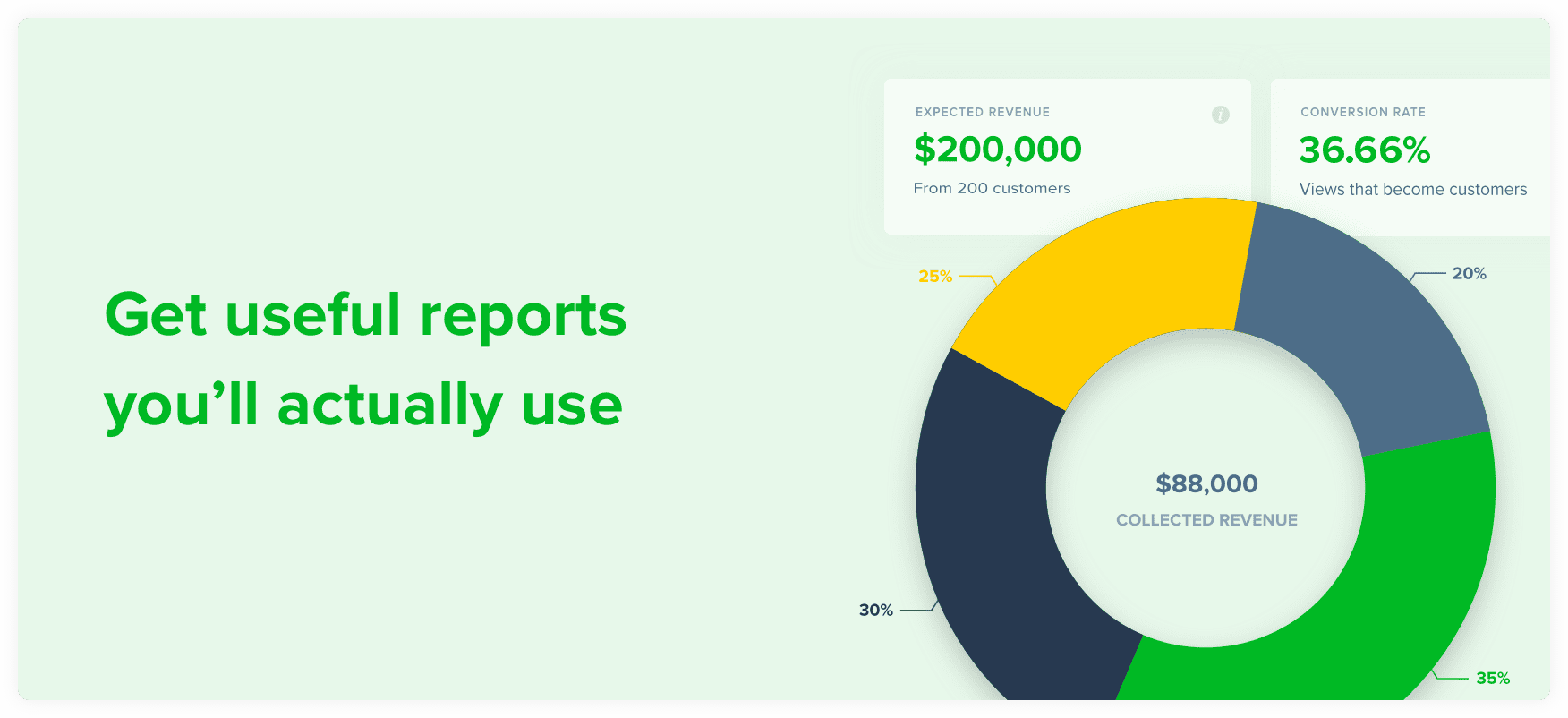 Most payment plan company dashboards give you limited reporting and data, since they only have a partial picture of your business' payments. With Paythen, in addition to payment plans, you can collect one-off payments, ongoing subscriptions, or maximize sales with our unique Pay your way plan that lets your customers choose between paying in full or via a payment plan from one easy link. This means you can handle all your payments through Paythen and see all your payment data in one place.
We designed Paythen specifically to let business owners take back control of their payment plans. It's your business, you should be able to decide who, when and how to offer payment plans. Most off the shelf payment plan or buy-now-pay-later companies like Afterpay, Klarna and others force you as a business owner to offer payment plans on their terms, with no flexibility and while promoting their own brand, all the while charging you a hefty fee.
Paythen is payment plan software that puts you in control, and your brand front and centre. With dozens of customizable options, you can offer payment plans exactly how it suits your business and your customers — add an additional fee, bill weekly, monthly, or at a custom interval, offer incentives for early repayment, and lots more, all without any code or technical complexity. Paythen sits in the background and handles all the related admin, automations, follow ups, reminders, and reporting, so you can focus on what you do best.
How does Paythen work?
Paythen is software that connects with Stripe for payment processing. You can create a free Stripe account or connect your existing account during sign up. Paythen lets your customers pay using their existing credit or debit cards — without needing any new credit approvals or checks, and 100% of your customers will be able to access payment plans.
The important thing to note is Paythen is software — there is no credit involved. This means you get paid as your customers pay you. Paythen is most suitable for businesses where you're providing and ongoing product or service, or when you're asking customers to pay before they receive the product or service (like travel, hair and beauty treatments).
Start your fee-free Paythen trial to see if Paythen is the payment plan management software you're looking for.
Stripe is the world's leading payment processor — they handle the underlying payment infrastructure to ensure your customers' payment information is secure. Millions of businesses across the world use Stripe as their payment processor. Paythen works with, and requires, Stripe. When you start your free Paythen trial, you can connect your existing Stripe account or create a new one in seconds. Paythen is a Stripe verified partner.
Paythen is available anywhere Stripe is. If you can sign up for a Stripe account, you can use Paythen. Stripe is currently available to businesses based in over 40 countries (please see notes below for 'preview' countries), and almost anyone anywhere through Stripe Atlas. These are the countries supported by Stripe (and Paythen) at the moment: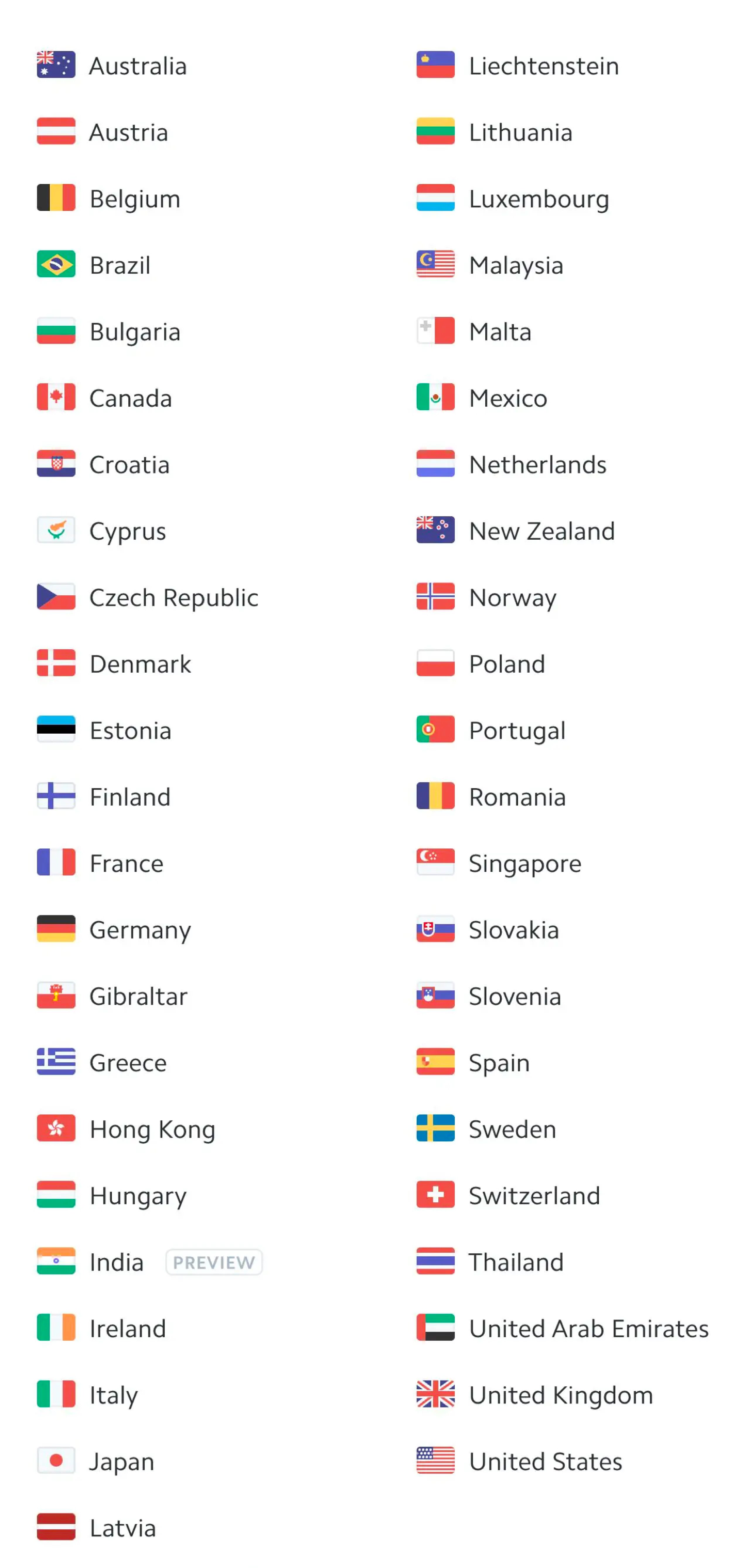 You can accept payments in most currencies Stripe supports (over 130) – at the moment you can't accept zero decimal currencies with Paythen. There are some exceptions and limitations based on your account's currency. View the full list and more info here.
Are you in a country where Stripe is in preview?
Countries that show "Preview" above might have limited functionality as Stripe is just getting started there.You can read more about each supported country, including Stripe fees and sign up for a Stripe account here. Different preview countries might have different limitations.
For some countries, because of legal and Stripe restrictions, Paythen fees cannot be automatically deducted from each transaction like they usually are. In these cases, you can still use Paythen as normal – but your billing will be done monthly at the end of each month via a credit or debit card.
For some preview countries (like Indonesia and the Philippines), Paythen might only work if you have set up a Stripe account using Stripe Atlas but not if your account is based in your home country and currency. This is because of legal limitations in these countries that don't allow external platforms based in other countries to connect to locally-based accounts.
Is your Stripe account based in Japan?
Japan based accounts can use and accept payments with Paythen in all other currencies except JPY at the moment. Paythen does not support zero decimal currencies at the moment but we expect to add support in the future.
Is your Stripe account based in India? 
Accounts based in India can currently only accept payments in INR using Paythen – we will be adding support to accept other currencies too, but at the moment, only INR payments can be accepted. If you're using Stripe Atlas with a USD account, then this does not apply.
Is your Stripe account based in Indonesia or the Philippines? 
Unfortunately at the moment, due to legal and/or Stripe limitations, Stripe accounts based in Indonesia or the Philippines cannot connect to platforms like Paythen that are based in other countries, like Paythen is. We hope to support both countries in the future if and when this changes. You can use Paythen if you have a US based Stripe account created via Stripe Atlas though.
If Stripe is not available in your country, we recommend looking into Stripe Atlas. It's a great way to form a US company remotely and get all the benefits that come with it.
How does Paythen help me offer payment plans?
Paythen is designed to let you create flexible payment plans easily. Each plan you create gets an easy payment link like this that works wherever your customers are. You can add this to your site, share it on Insta, Whatsapp, Facebook or email the link to customers.
Once your customers pay, Paythen gives you useful reporting about each customer, each plan and your entire business. Paythen handles related admin like reminders, retries and automated follow-ups in case of failed payments and keeps you informed throughout.
With Paythen, payment plans become easy — and help you focus on running your business. Our Zapier integration means you can send data from Paythen into 3,000+ other apps — from your accounting software, through to your CRM or mailing list software.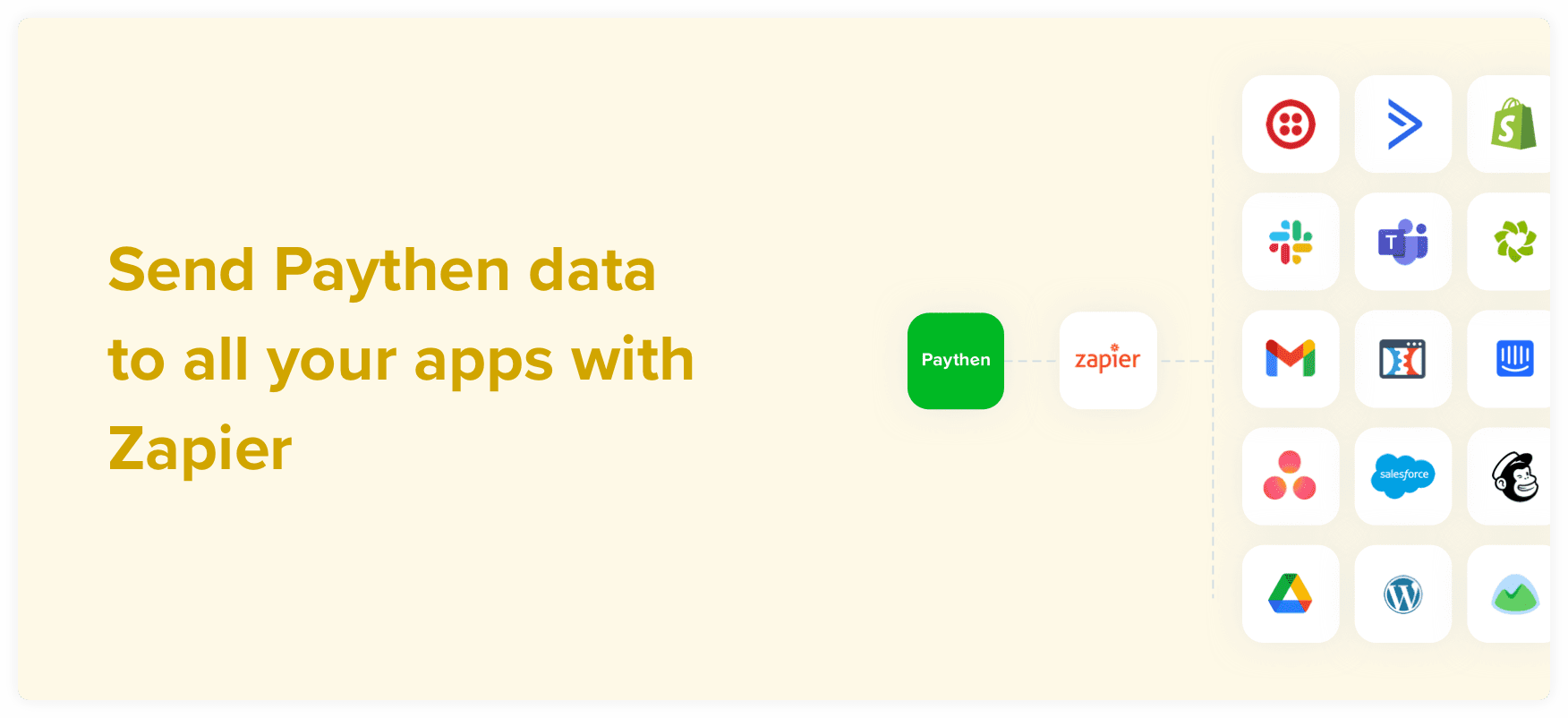 With a Paythen payment plan you can offer your customers a range of billing intervals, incentives to pay sooner, and more. Your customers can view their receipts, change their billing info and even repay early via their secure link (like this), without requiring support.With Paythen, your customers can choose to pay for their payment plan via their existing credit or debit card, Apple Pay, Google Pay, Alipay, and if you sell to European customers (in Euro), with many locally popular methods like SEPA Direct Debit, iDEAL and Sofort, with no extra setup or paperwork needed.
How are Paythen payment plans different to buy now pay later companies like Afterpay and Klarna?
The key difference between Paythen and buy now pay later companies like Afterpay and Klarna is that with Paythen, you get powerful, flexible software to offer payment plans on your own terms, with no restrictions and far lower fees, however there is no credit involved — you get paid as your customers pay you. With buy now pay later companies, they are giving your customers a loan — and you get paid immediately after they take their hefty fee.
A key advantage of buy now pay later companies is you get your money immediately and take on no risk. In exchange, you pay higher fees, give up your branding and most importantly, your customer relationships. There are a few more downsides — you must be an "eligible business" in an "eligible industry" and in an "eligible country". And your customers must also be eligible for this service!
With Paythen, your business can be based in 40+ countries, in any industry, and your customers can be in 120+ countries.
There are also no minimums or maximums — whether you're selling a $100 or $10,000 product or service, you can use Paythen. Interested in a more detailed comparison of Paythen vs. buy now pay later companies like Afterpay and Klarna? Check it out here.
Who uses Paythen to offer and manage payment plans?
Paythen is used by thousands of businesses across a range of industries and countries to offer easy payment plans to their customers — from educators and coaches through to hair salons, travel providers, art galleries, fitness equipment retailers, and many others.
Paythen is best suited for businesses offering an ongoing product or service, or where you collect most of the payments before providing the product or service, if it's a one-off thing. Eg: If you sell tours, or hair styling services, you'd want to collect most or all of the payment installments before the customer gets the service. This is because with Paythen, you get paid as your customers pay you. This ensures you're not taking on unnecessary risk. Of course if you're providing an ongoing service or product, in case a customer stops paying, you can simply withhold that product or service.
Paythen is used by businesses that want to maximize their sales by giving their customers different payment options, while minimizing their admin and support costs.
What are the specific features in Paythen to manage payment plans? How does it reduce payment plan related admin?
Everything in Paythen is designed to make it really easy for you to manage and understand where things are at with your payment plans. From the overview page where you see all your business info at a glance, through to customer level info that shows you what each customer has paid vs. what is remaining, Paythen helps you give your customers more options while reducing the time and effort you spend administering and managing payments and customer information. Some key tools you'll be able to use in Paythen are:
Business level reports to understand the total expected revenue vs. the actual collected revenue. Expected revenue is what you are owed from payment plans that are still in progress. You can also see your top performing plans and how much they contribute to your revenue.
Plan level reports help you understand how each product or plan is performing — you can see expected vs. collected revenue, the customers on that plan, how many have completed vs. are still in progress, and more.
Customer-specific info lets you see the number of payments each customer has completed, what they still owe, their payment method, receipts , etc., You also see any custom fields answers here, as well as the customer's payment schedule and optionally, the payment plan terms they accepted when they signed up.
Your customers can self-manage their payment plan by changing their payment information, getting access to their receipts, and even repaying the payment plan early with one-click (if you've enabled this option). You can optionally also let customers self-cancel their payment plan.
Customers can get to their summary page to access all of the above via your public company link like this. Many businesses add this public link into their site's footer and help articles so customers can complete the entire process without requiring your help. From this link, customers can either change their card on file directly, or request a link to their full summary page by entering their email.
Automated reminders for your customers before each scheduled payment helps reduce failed payments. Paythen sends your customers an email reminder 2 days before each scheduled payment with a handy link for them to change their payment information if they need to.
Automated retries and failed payment emails make even failed payment attempts fully automated. If a scheduled payment fails, your customers get an instant email letting them know, along with the date for the next scheduled payment. They are also prompted to update their payment information if needed. As an administrator, you get notified for every failed payment attempt too so you're fully in the loop.
Our unique "Pay your way" plan lets you offer each customer the option to pay for the same product or service either in full, or via a payment plan — you can even incentivize them with discounts. You also get fully unified reporting in your admin dashboard to understand how many customers chose to pay upfront vs. the payment plan option. Here's an example.
For each payment plan, you can incentivize customers to repay early by offering them a percentage based or fixed discount. For percentage based discounts, Paythen automatically adjusts the discount each customer gets based on what they owe — so if one customer owes $1,000 on their payment plan and repays early, at a 10% discount, they would get $100 off. If another customer who owes only $100 repays early, they would get $10 off. The discount scales automatically depending on what they owe.
While Paythen's specialty is letting you collect and manage payment plans, you can also offer ongoing subscriptions or collect one-off payments just as easily via Paythen. This helps you easily manage all your payments from one easy place while offering your customers a great branded experience. Plus you get the same great reporting regardless of what plan type you offer.
Most payment systems need a developer or tech assistance to work on your site. With Paythen, each plan you create gets an easy payment link you can instantly share anywhere your customers are — whether it's Insta, Whatsapp, Facebook, email, or your site. You can get paid anywhere.

In addition to the above, Paythen has many other useful tools like discount codes, integrations with Zapier, WooCommerce and other tools that let you easily send Paythen data into your other systems and fit Paythen into your workflow.
To summarize, and even though we're biased, we believe Paythen is one of the best Payment plan management tools available for businesses that want to easily offer, manage and most importantly, retain control over their own payment plans and customer relationships. Because Paythen works with Stripe, you get all the tools to easily offer and manage payment plans with world-leading security for your most sensitive payment information.