Paythen is a verified Stripe partner that extends Stripe's feature set to let you offer your customers easy payment plans and payment links in under one minute, with no code.
Paythen is a no-code billing and payment system that works with Stripe (for payment processing) and lets businesses offer payment plans and split payments in under a minute. Create highly flexible plans and let customers pay for your product or service via a payment plan or upfront. Once you create a plan, we generate an easy payment link you can add on your site or share with your customers via email or social. It's beautifully simple, but very powerful with features designed to improve your customer experience, while reducing admin, and giving you powerful insights. Paythen requires Stripe to work. Once you sign up, we'll ask you to connect your Stripe account.
Here's what we cover in this post:
Do I need to offer split payment plans to my customers?
As a general rule, you should definitely consider offering split payment plans – especially if you like increasing your sales and revenue. Split payment plans make your service or product more accessible to more people.
Having said that, whether or not you ultimately decide to offer split payment plans comes down to the type of product or service you're selling. If you're selling products on your ecommerce site, like Shopify, WooCommerce or similar, customers from most countries will almost certainly expect you to offer at least one split payment plan option. Not having this can reduce your sales and revenue.
If you're selling a service, like training courses, consulting or just high-value physical products, split payment plans are less of an expectation – but businesses that offer them can use them as a key selling point, appeal to more customers, and increase margins too (by charging more for the payment plan option).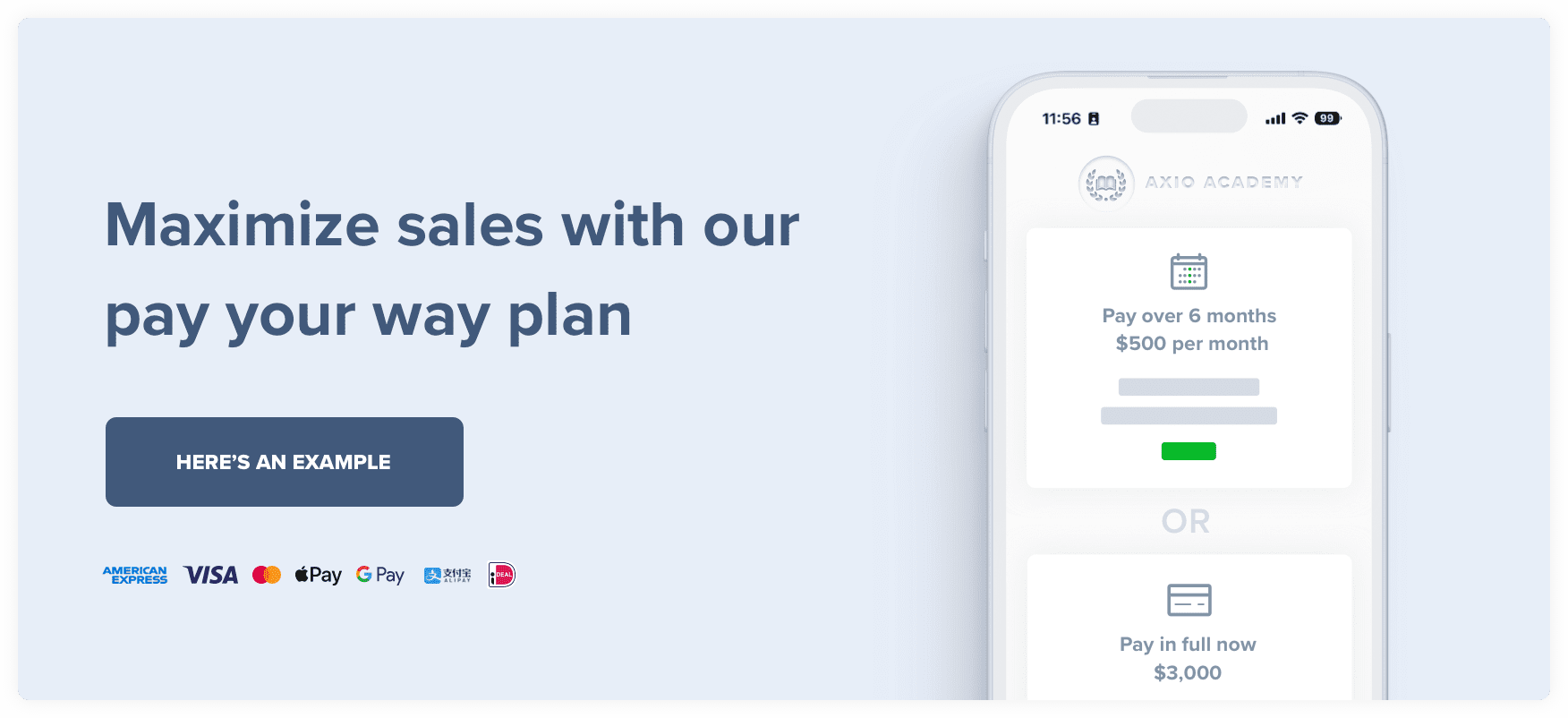 Should I use a buy-now-pay-later service like AfterPay, Affirm, Klarna, or others? Are there other options? What are the pros & cons?
Buy now pay later is a fast growing alternative for traditional credit cards. Some of the most well known companies in this space are AfterPay, Klarna, and Affirm. There are dozens of other country-specific ones too.
Most buy now pay later providers operate with a standard model:
You have to register (and get approved) as a merchant with these providers.
Your customers choose the "Pay in 4 or 8" option at the point of payment and are taken to these provider's sites to create an account or log in. They complete the payment and are redirected back to your site.
You get paid the full amount, less a big slice for their fees (often over 6%), almost immediately.
Your customer repays the buy now pay later provider over a few weeks.
The benefits of buy now pay later
This sounds (and often is) a good solution for your customers – who get the ease of use of a credit card or loan, without interest or fees (as long as they pay it back on time). You as a business owner get more sales and can sell to a larger number of potential customers since your product becomes more affordable.
The downsides of buy now pay later: Seller beware. It's not all rainbows and sunshine.
While buy now pay later is popular and growing rapidly (for many good reasons), the business model, and the companies in the space have a few fundamental conflicts between the buy now pay later provider, and the people paying them – you. Here are the main downsides of using buy now pay later as a business.
They want need your customers
Most buy now pay later providers are heavily venture-funded or publicly listed companies. Their investors and shareholder expect skyrocketing growth month over month. The only way they can sustain this is to keep growing rapidly and adding more customers and more merchants to their database, regardless of how this impacts you as an individual business.
They only work in some countries
Most buy now pay later providers operate in a small number of countries, limited by geography. If you run a modern, global business selling your product or service to customers across the world, only a small section of your customers will be able to access payment plans – or you'll end up having to manage and support dozens of buy now pay later services with separate fees and processes, making it clunky and less than ideal for you and your global customer base.
Paythen is available anywhere Stripe is. If you can sign up for a Stripe account, you can use Paythen. Stripe is currently available to businesses based in over 40 countries (please see notes below for 'preview' countries), and almost anyone anywhere through
Stripe Atlas
. These are the countries supported by Stripe (and Paythen) at the moment: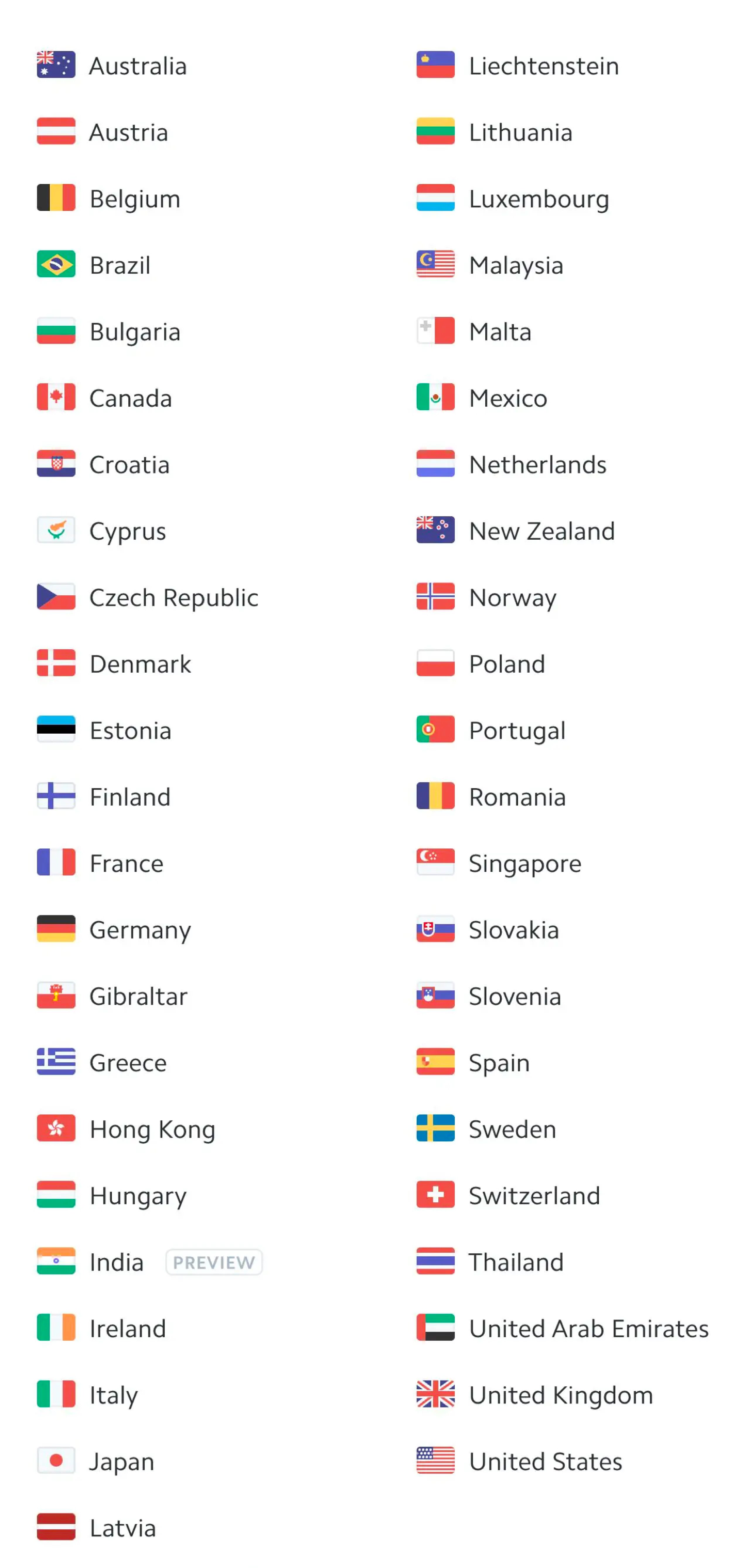 You can accept payments in most currencies Stripe supports (over 130) – at the moment you can't accept zero decimal currencies with Paythen. There are some exceptions and limitations based on your account's currency.
View the full list and more info here
.
Are you in a country where Stripe is in preview?
Countries that show "Preview" above might have limited functionality as Stripe is just getting started there.You can read more about each supported country, including Stripe fees and sign up for a Stripe account
here
. Different preview countries might have different limitations. For some countries, because of legal and Stripe restrictions, Paythen fees cannot be automatically deducted from each transaction like they usually are. In these cases, you can still use Paythen as normal – but your billing will be done monthly at the end of each month via a credit or debit card. For some preview countries (like Indonesia and the Philippines), Paythen might only work if you have set up a Stripe account using Stripe Atlas but not if your account is based in your home country and currency. This is because of legal limitations in these countries that don't allow external platforms based in other countries to connect to locally-based accounts.
Is your Stripe account based in Japan?
Japan based accounts can use and accept payments with Paythen in all other currencies except JPY at the moment. Paythen does not support zero decimal currencies at the moment but we expect to add support in the future.
Is your Stripe account based in India? 
Accounts based in India can currently only accept payments in INR using Paythen – we will be adding support to accept other currencies too, but at the moment, only INR payments can be accepted. If you're using Stripe Atlas with a USD account, then this does not apply.
Is your Stripe account based in Indonesia or the Philippines? 
Unfortunately at the moment, due to legal and/or Stripe limitations, Stripe accounts based in Indonesia or the Philippines cannot connect to platforms like Paythen that are based in other countries, like Paythen is. We hope to support both countries in the future if and when this changes. You can use Paythen if you have a US based Stripe account created via
Stripe Atlas
though. If Stripe is not available in your country, we recommend looking into
Stripe Atlas
. It's a great way to form a US company remotely and get all the benefits that come with it.
They are limited to a certain maximum amount – typically around $1,000
Sell something worth a few thousand dollars? You're out of luck. Because buy now pay later providers give customers unsecured loans, they typically cap the total amount a customer can borrow to between $1,000 and $1,500. Some even less.
Only certain types of businesses can use them
Sell an online course? Consulting service? Web agency? Or dozens of other services or products? If your business doesn't fit into a neat little category, most buy now pay later providers won't want anything to do with you. They see you as "high risk" even if you've been running a successful, profitable business for a decade.
Only a portion of your potential customers can use them
Your customers will typically need to sign up and apply, often get credit checks, and some of them can get declined. This increases friction and can lower your conversion rates.
They grow their brand at your expense
You do the hard work of marketing, brand-building, and investing money to find customers for your product, but after the first purchase with a buy now pay later provider, your customer essentially becomes their customer, at no cost to them. Your customer is then pushed heavily to start their next search from the provider's home page, not yours. Your brand is lost among thousands of others and your loyal customers eventually become theirs.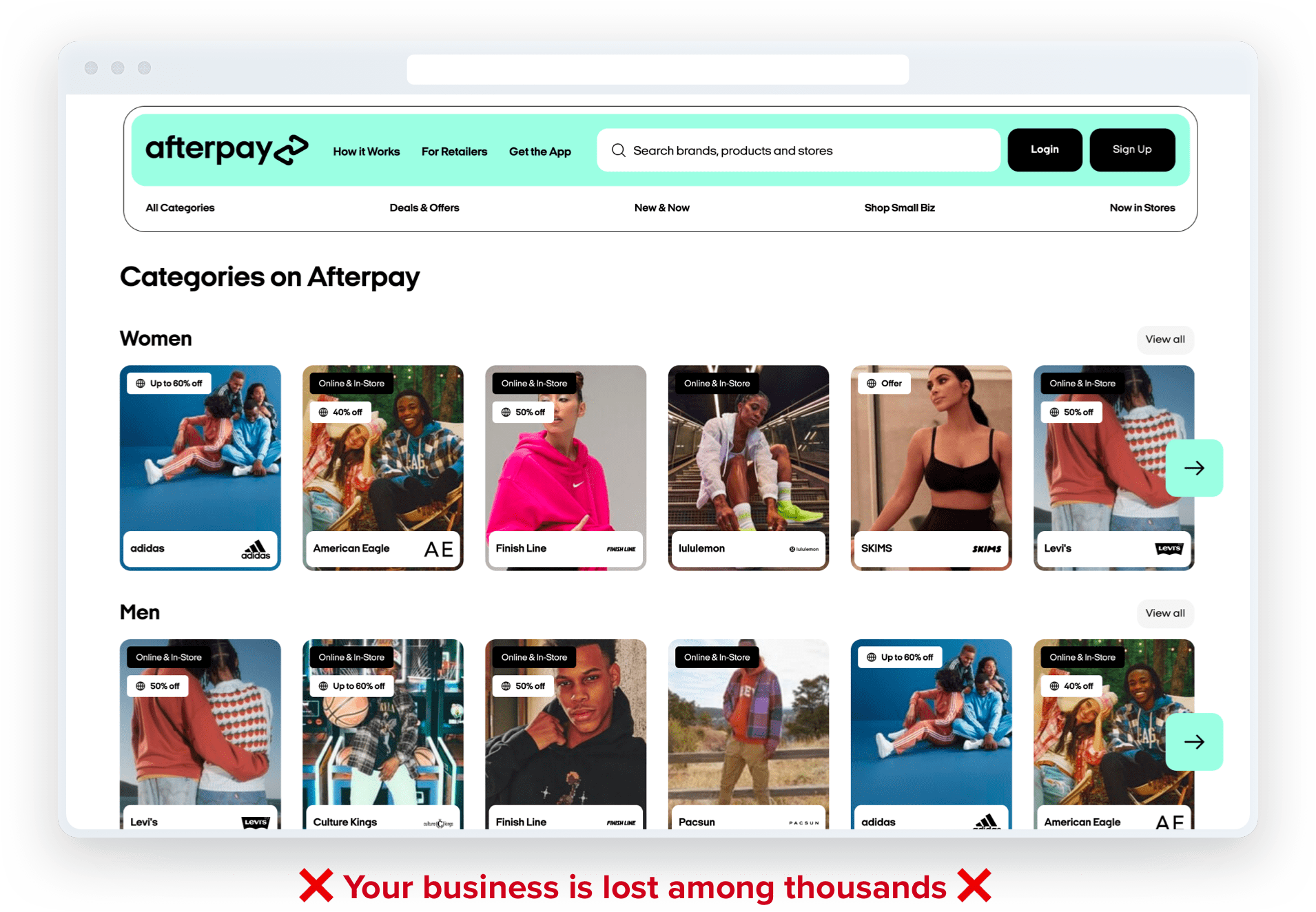 They take a big slice of your revenue
Most buy now pay later services charge over 6%, even up to 8 or 9%. Especially if you're not a very large business that can negotiate prices. Many also charge your customers monthly admin fees, late fees, and even per-transaction fees.
You are a commodity to them
As one of thousands of merchants, you are a commodity. If you stop using their service, they have no incentive to keep you on, since they typically have hundreds or thousands of other merchants in the same category as you who will replace you. Your individual business isn't that important to them.
No. Paythen is not a buy now pay later credit service like AfterPay. We use AfterPay as an example below, but the points below apply to most buy now, pay later services like Klarna, Affirm and many others. Once you create a plan in Paythen, your customers get to choose to pay the full amount immediately or via a payment plan that you've defined. Both options require your customers to use their credit or debit card to pay. This means 100% of your customers can choose a payment plan option instead of only those that get approved for credit.
AfterPay is a credit service. With Paythen, your customers can get get a payment plan, but they can use their existing credit or debit card to do so.
AfterPay is like a mini-loan, with Paythen, there is no credit provided – this is not only more responsible, but also more flexible and better. Your customers get to choose how they want to pay, and which payment method they want to use, while you pay lower fees and deliver a better customer experience.
AfterPay has a fixed 8 week repayment period. This is rigid, and can still be very high for high value items. With Paythen, you can set the payment plan interval to whatever you want – weekly, monthly, fortnightly, or any other custom interval – and you also choose how long it goes for.
AfterPay takes away your direct relationship with your customer – and build their brand, instead of yours. With Paythen, there is little to no Paythen branding involved – we just give you the mechanism to offer split payments, while giving you the reporting and flexibility you need.
AfterPay takes away a big chunk of your profit margin with each transaction. With Paythen, you get to decide – you pay a low 1.4% per transaction with no monthly or other fees. You do pay the payment processing fee to Stripe, which is the payment processor.
Paythen is a complete billing and payment system that gives you ease of use, reporting and insights and important features for your customers whereas AfterPay and others are just credit providers.
Paythen is built on top of Stripe – the world's most popular (and in our opinion, the best) online payment processor. This means from day one, you can accept payments in hundreds of currencies.
Buy now pay later alternatives to offer split payment plans to your customers
There are three main types of alternatives to traditional buy now pay later providers:
Companies that offer the ability to have credit card payment plans – like SplitIt.
lower fees vs buy now pay later
limited flexibility
geographic restrictions
Companies that offer you the ability to have credit or debit card payment plans, however you want.
With any amount, any billing interval, extra fees, and much more. You control the plan. Like Paythen 🙂
low fees
lots of flexibility
40+ countries & 130+ currencies
all types of payments (payment plan, one-off, subscriptions OR let your customers choose) – see some examples
Build your own
can be lower fees vs. any other but huge upfront costs and high ongoing costs
ongoing compliance and maintenance costs
internal tools like this will never be priority – and often get neglected over time, leading to a poor customer experience
can be worth it for very large volumes and if very specific functionality and flows are needed. You can build on top of tools like Stripe that offer a lot of the base functionality. We expand on this approach a bit more below.
Can I offer split payment plans directly using just Stripe and nothing else? What are the pros and cons?
Yes you can. But similar to the build your own functionality, it can cost a lot to build and maintain – both upfront, and over time. Stripe has an excellent set of core payments functionality, but Stripe is primarily focused on subscription payments for software companies or large platforms.
Pros
Build your own payment flow exactly how you want
Per transaction fees can be slightly lower vs. using another platform
Cons
Takes a huge chunk of time, money and attention away from your core business
Expensive to maintain, keep up to date and evolve over time, with development resources and various supporting software needed to support payments (emails, alerts etc)
Custom internal tools and workflows that aren't the main business tend to be neglected and under-funded over time, leading to a poor customer experience and security issues
Custom built internal workflows are almost never as good from a customer experience perspective vs. dedicated tools built by companies whose entire business is payment plans.
How can I offer split payment plans using Stripe & Paythen?
Offering split payment plans using Stripe & Paythen is painless and quick. Paythen lets business owners and operators offer flexible payment plans exactly how you want them, using your Stripe account.
Create a free Stripe account if you don't already have one
Create a free Paythen account and connect it to your Stripe account (you can disconnect any time with one click)
Create your payment plan in Paythen (choose a billing interval, amount, additional fees, etc)
Share your payment plan link anywhere – on social, messaging, your website and more.
Start accepting payment plans. That's it!
With Paythen, you also get useful reporting on each customer, each product, and more. You can also offer subscriptions, one-time purchases, and more, from the same easy dashboard, to get unified reporting. All with no code and no technical setup.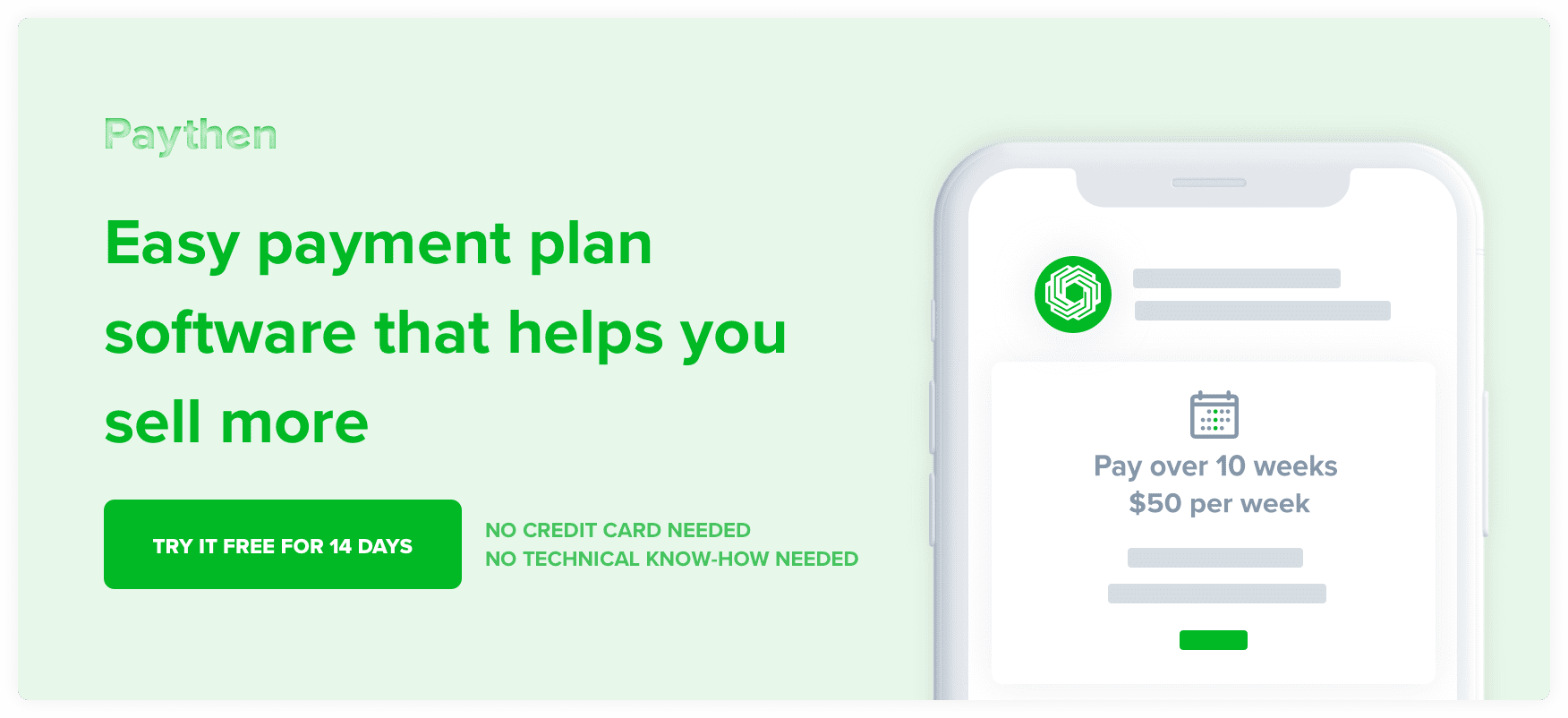 No. Paythen works with Stripe to process payments. Once you sign up, we will ask you to connect your existing Stripe account or create a new one.
No. Paythen is designed to work with Stripe. This is because Stripe is the leader in terms of the features, flexibility, security, ease of use, global availability, and more when it comes to payment processors. We believe it is the best payment processor available for most businesses in the countries it is available. Building Paythen to work with Stripe means we can offer you advanced features that would be impossible with most other payment processors. We have no short-term plans of integrating with other payment processors but will re-evaluate this position as needed.