Payment plans can help increase revenue and the amount customers spend (over time). They also help make your cashflow predictable. But setting up and offering payment plans can be a bit scary – where should you start? How should you do it? What are the pros and cons of different approaches? We've covered everything you need to know to get started below.
We recommend reading from start to finish, but you can jump to specific sections if you prefer.
What are customer payment plans?
Payment plans have become popular in recent years. This is due to the popularity buy-now-pay-later companies like Afterpay, Klarna and Affirm.
Payment plans let customers pay for your product or service in easy installments. Most businesses choose to let customers pay over a few weeks or months – but for larger amounts, plans can be 12 months or more. Customers can afford big-ticket items and better manage their cashflow with payment plans.
Why offer payment plans to customers? What are the benefits for my business?
Offering payment plans is not just useful for customers – businesses benefit too. Here's how:
1. Get more customers and increase sales
By offering payment plans, what you sell becomes accessible to more people. Eg: Instead of needing $2,000 available upfront to buy your amazing course, they can now pay over ten $200 payments. Payment plans create more customers for your business, which increases your sales.
2. Keep customers
People now expect businesses to offer payment plans – whether eCommerce or otherwise. Businesses that don't offer payment plans lose customers to competitors that do. Payment plans are now a basic requirement rather than a nice-to-have for any type of business.
3. Customers spend more
A customer spending $200 today is more likely to spend more, since they now have the cashflow to afford it. Over time, payment plans help customers spend more with your business.
4. Predictable cashflow
Offering payment plans gives you more predictable cashflow – like a recurring revenue business. This lets you better plan for slow periods, have predictable revenue, and provide peace of mind.
5. More opportunities to upsell
Instead of customers buying something once, you can better up-sell them to other products and services over the duration of the plan.
Customers today demand the businesses they buy from offer payment plans. Otherwise they just buy from ones that do. For most businesses, the question is how to do payment plans well, as opposed to if or why.
Next we'll cover the approaches you can take to offer payment plans to your customers. We'll then outline the risks involved with each approach.
How can I offer payment plans to my customers?
Thinking about offering payment plans? There are two broad approaches – managing it yourself with full control over how they work (with easy great software to help), or outsourcing it to a buy-now-pay-later provider like Klarna, Sezzle, Affirm .
Approach one: Offer payment plans on your terms, with full control (with the help of smart software)
With this approach, you're in control. Of your brand, your customer relationships, billing intervals, fees and more. You have the flexibility to offer payment plans exactly how it suits your business.
In the past, this approach would have meant additional people, costs and a lot more admin. Luckily, with easy to use software like Paythen, you can offer flexible, powerful payment plans with minimal admin or extra work.
Paythen automates the entire process and gives you an easy-to-use admin dashboard to track everything.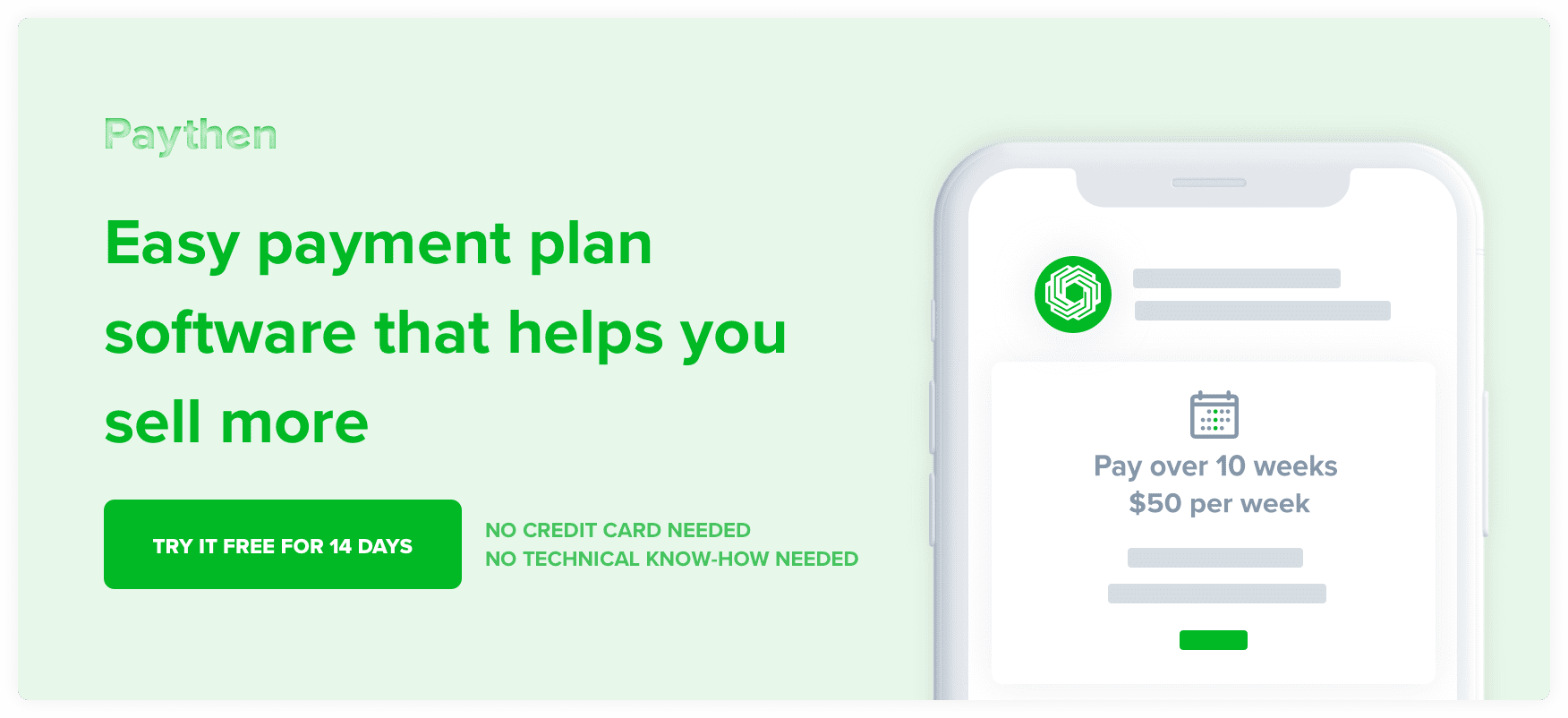 With this approach, you can offer payment plans to all your customers, anywhere in the world. Paythen works for businesses in 47 countries, and you can offer plans in over 120 currencies.
When you choose this approach, you remain in control and your brand remains front and center. All Paythen emails and customer-facing pages contain your logo and colors. There is no platform trying to compete with you and take your customers away.
Unlike the second approach we'll cover below, there is no limit to the order amount with this approach. Selling a $5,000 service? $10,000 tour? Or a $20,000 piece of equipment? No worries – you can offer plans for each amount with different billing intervals and deposits.
This approach costs less too – with far lower fees (eg: Paythen fees are only 1.4%. Including the payment processor fees, these are typically lower than BNPL provider fees which can be between 6% and 12% for you. There can also be fees and interest charges for your customers.
Approach two: Outsource your payment plans to BNPL providers
With this approach, you can outsource your payment plan to a buy now pay later company like Sezzle, ZipPay, Affirm and others. The key benefit is you get paid the full amount upfront. In exchange, you pay higher fees, lose control over your customer messaging, and over time, your customers become their customers.
All communication from these BNPL companies also focuses on their brand – not yours. This prioritizes the BNPL provider's brand in your customers' minds at the expense of yours.
Most BNPL companies want to be a shopping destination. Once your customers pay, they are then pushed to start their next shop on afterpay.com or klarna.com instead of your site. This means you now compete with thousands of other providers, daily deals and more, even for your own customers.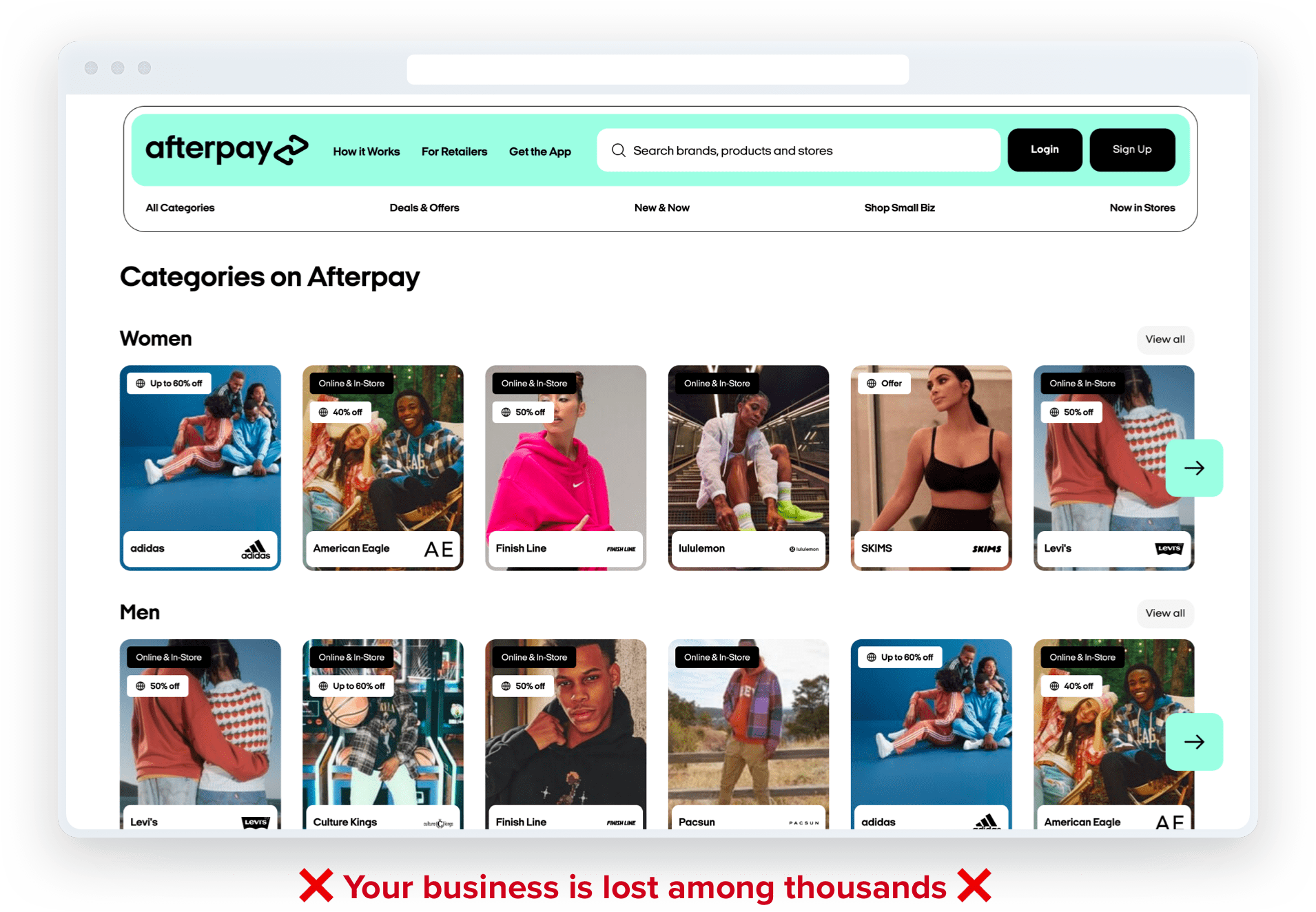 You also have no flexibility in how you structure your payment plans and the billing intervals and duration of your payment plan. This can lead to your payment plan installments being quite high if you sell a high value product.
Many service-based or non-standard eCommerce businesses aren't eligible to even use BNPL providers. If you're one of these businesses, approach one is the way to go.
BNPL can be the right approach for some businesses depending on where you're based, where your customers are and what you sell. Eg: If you sell low value products or if you're eligible for a deeply integrated solution – like Shopify Merchant based in the US, with customers also based in the US, and your margins can sustain their fees, Shop Pay Installments is a good product to consider.
There are other, more traditional payment plan and financing providers too but they typically have a poor customer experience, and clunky, long approval processes. They are also focused on larger enterprise.
The risks
As with anything, there are some risks that come with payment plans. There are two main ones, depending on the approach you choose.
If you choose to offer your own payment plans, you take on the risk of customers not paying or scheduled payments failing. There is then work involved in chasing these up, retrying failed payments, and more.
Fortunately tools like Paythen automate all this – with reminders before scheduled payments, automatic re-attempts for failed payments, instant notifications to you and your customers, and easy ways for customers to update their card information. This minimises the risk of non payments and automates most admin for failed payments.
With this approach, you also have the option of increasing the price of payment plans to cover the risks, passing on processing fees to customers, collecting larger deposits upfront, incentivizing them to repay early, and more. With the BNPL approach, the providers typically prohibit you from doing any of the above.

The second type of risk comes from choosing one of the many Buy Now Pay Later companies like Affirm, Klarna, ZipPay and others. This approach removes the risk of defaults since you get paid upfront. But it introduces an even bigger risk – losing customers you worked hard to get. BNPL companies want your customers to begin their next shop on their sites, not yours. They are increasingly becoming shopping destinations in themselves. Businesses like yours end up as one of thousands of providers– easily replaceable. This risk + higher fees (often between 6% and 12%) are a big downside of using a BNPL provider. You also lost control over your messaging, branding and how to structure your payment plans.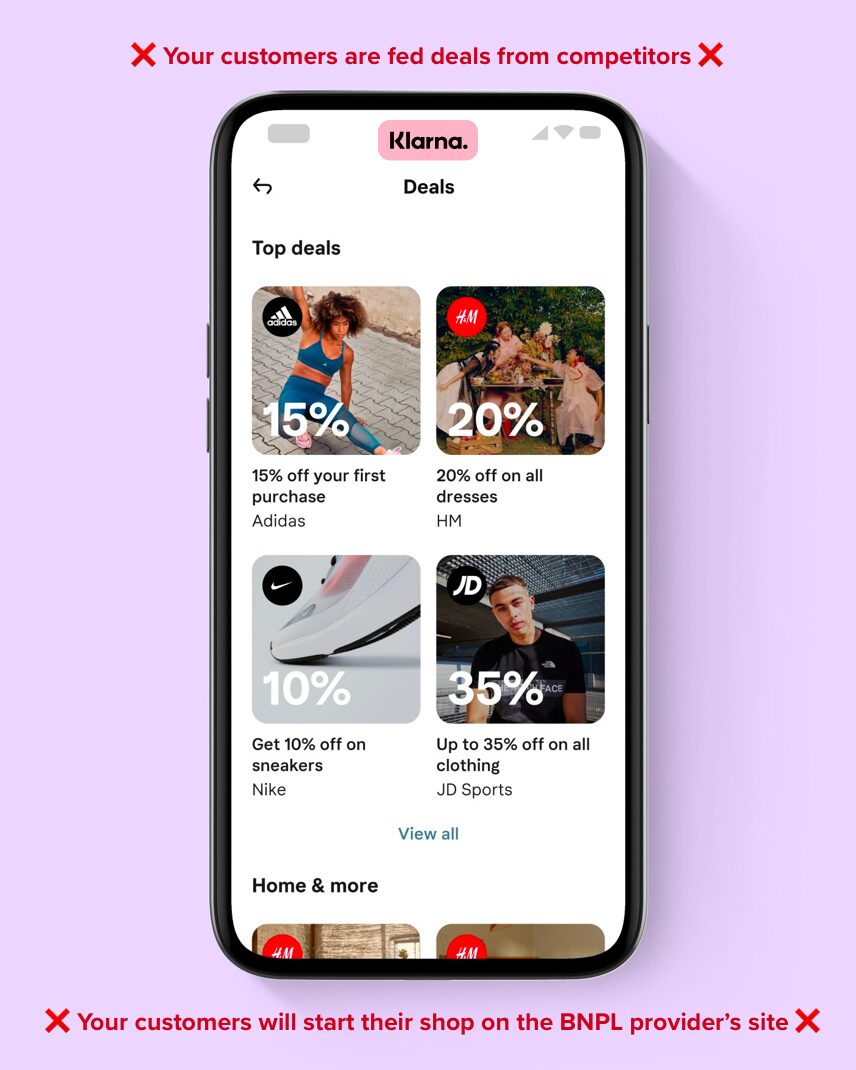 Both approaches involve risks – the decision you need to make is which one works for you and your business.
An overview of Paythen – an easy tool to offer payment plans your way
Paythen is an easy way for you to offer payment plans to your customers with minimal admin and low fees. Paythen lets you deliver a world-class payment plan experience while retaining full control over your business.
Paythen gives you the benefits of BNPL companies, while keeping you in control. Instead of outsourcing payment plans to a third party that is competing with you for your customers, Paythen gives you the tools you need to do things yourself.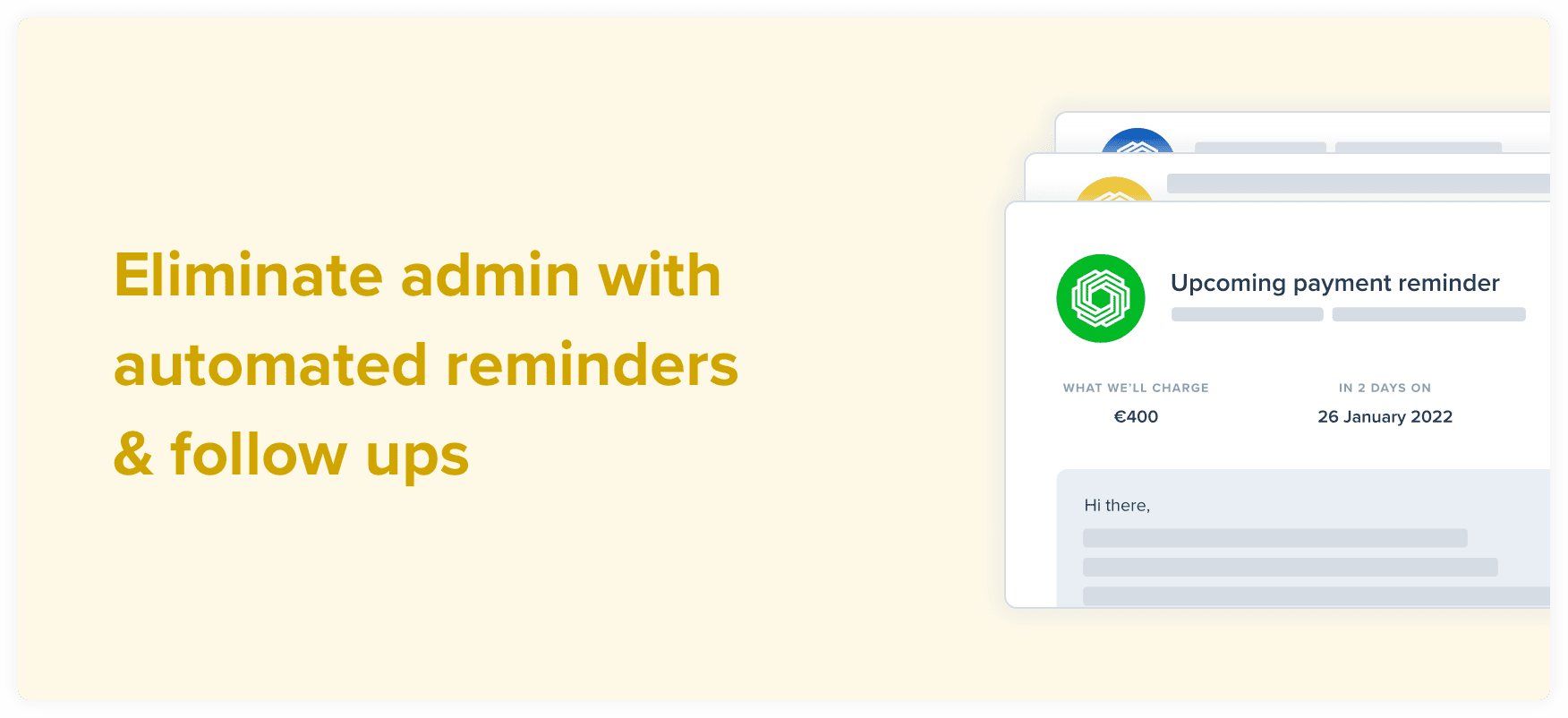 Paythen lets you decide how to run your business instead of forcing someone else's business model on you. It's simple to use, with powerful functionality and automations behind the scenes that minimize admin and busy-work.
Paythen doesn't require code, or even any technical know-how. It is plug and play and takes only a few minutes to set up.
Check out these examples of Paythen payment plan links – they work anywhere your customers are.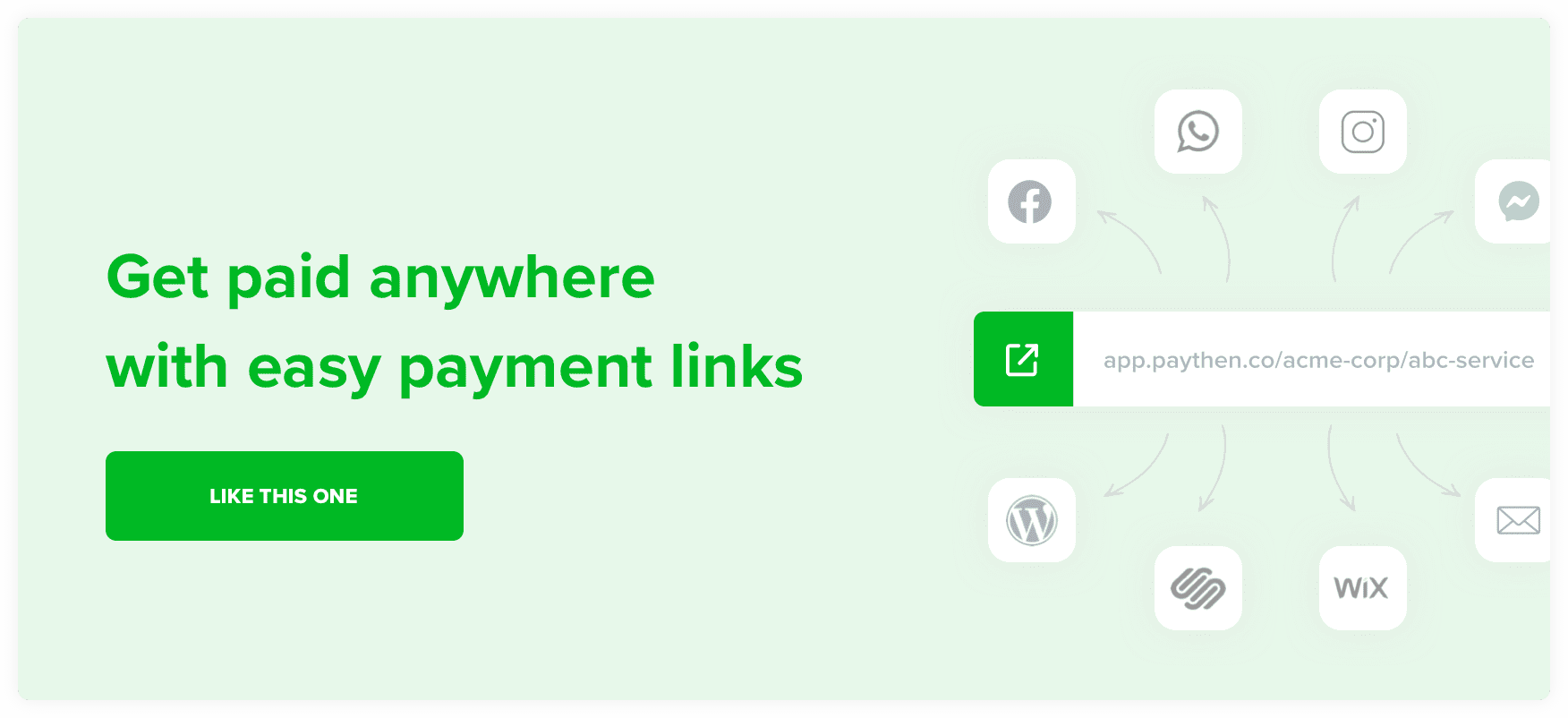 If you want to offer payment plans but keep control of your pricing, your customer relationships and your brand, Paythen may be the right tool for you. We have a fee-free 7 day trial, then just a low 1.4% per transaction with no other fixed fees or charges. No credit card needed.
As with all billing systems, this is separate to the payment processing fees charged by Stripe. These are typically between 1.6% and 2.9% depending on your country. See Stripe pricing for your country.
Paythen works with and requires Stripe to process payments. You can connect your existing Stripe account or create a new one easily when you sign up for Paythen.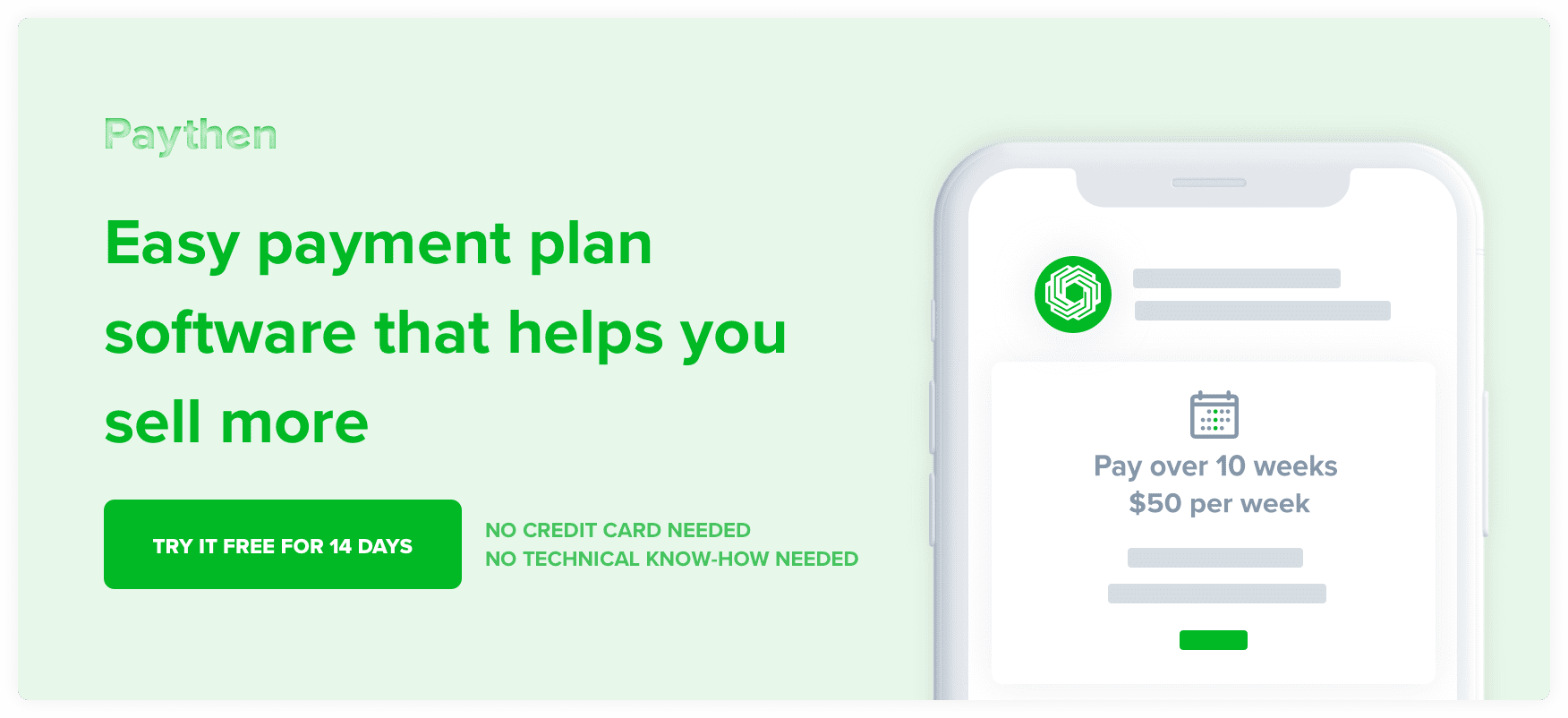 Stripe is the world's leading payment processor — they handle the underlying payment infrastructure to ensure your customers' payment information is secure. Millions of businesses across the world use Stripe as their payment processor. Paythen works with, and requires, Stripe. When you start your free Paythen trial, you can connect your existing Stripe account or create a new one in seconds. Paythen is a Stripe verified partner.
Paythen is available anywhere Stripe is. If you can sign up for a Stripe account, you can use Paythen. Stripe is currently available to businesses based in over 40 countries (please see notes below for 'preview' countries), and almost anyone anywhere through Stripe Atlas. These are the countries supported by Stripe (and Paythen) at the moment: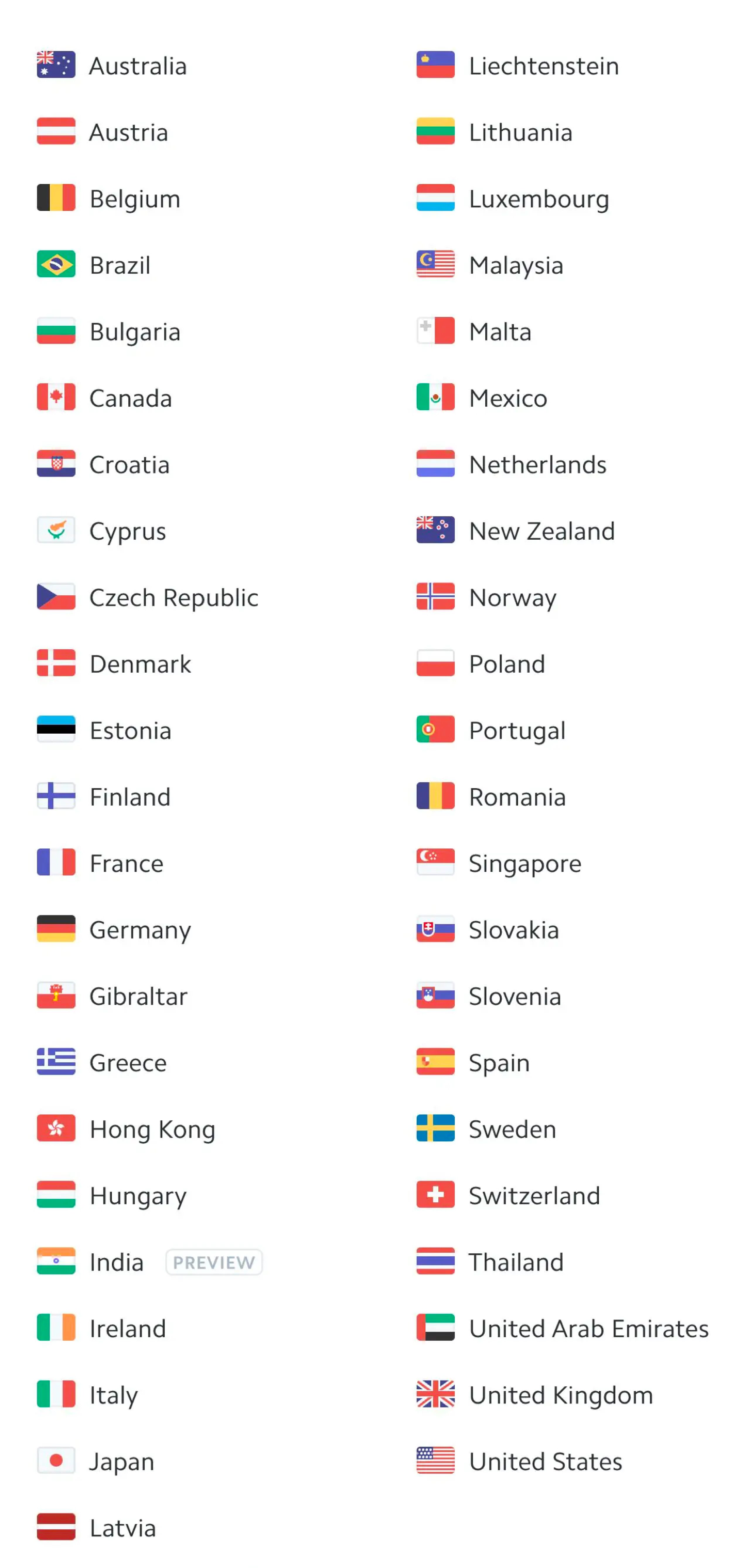 You can accept payments in most currencies Stripe supports (over 130) – at the moment you can't accept zero decimal currencies with Paythen. There are some exceptions and limitations based on your account's currency. View the full list and more info here.
Are you in a country where Stripe is in preview?
Countries that show "Preview" above might have limited functionality as Stripe is just getting started there.You can read more about each supported country, including Stripe fees and sign up for a Stripe account here. Different preview countries might have different limitations.
For some countries, because of legal and Stripe restrictions, Paythen fees cannot be automatically deducted from each transaction like they usually are. In these cases, you can still use Paythen as normal – but your billing will be done monthly at the end of each month via a credit or debit card.
For some preview countries (like Indonesia and the Philippines), Paythen might only work if you have set up a Stripe account using Stripe Atlas but not if your account is based in your home country and currency. This is because of legal limitations in these countries that don't allow external platforms based in other countries to connect to locally-based accounts.
Is your Stripe account based in Japan?
Japan based accounts can use and accept payments with Paythen in all other currencies except JPY at the moment. Paythen does not support zero decimal currencies at the moment but we expect to add support in the future.
Is your Stripe account based in India? 
Accounts based in India can currently only accept payments in INR using Paythen – we will be adding support to accept other currencies too, but at the moment, only INR payments can be accepted. If you're using Stripe Atlas with a USD account, then this does not apply.
Is your Stripe account based in Indonesia or the Philippines? 
Unfortunately at the moment, due to legal and/or Stripe limitations, Stripe accounts based in Indonesia or the Philippines cannot connect to platforms like Paythen that are based in other countries, like Paythen is. We hope to support both countries in the future if and when this changes. You can use Paythen if you have a US based Stripe account created via Stripe Atlas though.
If Stripe is not available in your country, we recommend looking into Stripe Atlas. It's a great way to form a US company remotely and get all the benefits that come with it.
No. Paythen is not a buy now pay later credit service like AfterPay. We use AfterPay as an example below, but the points below apply to most buy now, pay later services like Klarna, Affirm and many others.
Once you create a plan in Paythen, your customers get to choose to pay the full amount immediately or via a payment plan that you've defined. Both options require your customers to use their credit or debit card to pay. This means 100% of your customers can choose a payment plan option instead of only those that get approved for credit.
AfterPay is a credit service. With Paythen, your customers can get get a payment plan, but they can use their existing credit or debit card to do so.
AfterPay is like a mini-loan, with Paythen, there is no credit provided – this is not only more responsible, but also more flexible and better. Your customers get to choose how they want to pay, and which payment method they want to use, while you pay lower fees and deliver a better customer experience.
AfterPay has a fixed 8 week repayment period. This is rigid, and can still be very high for high value items. With Paythen, you can set the payment plan interval to whatever you want – weekly, monthly, fortnightly, or any other custom interval – and you also choose how long it goes for.
AfterPay takes away your direct relationship with your customer – and build their brand, instead of yours. With Paythen, there is little to no Paythen branding involved – we just give you the mechanism to offer split payments, while giving you the reporting and flexibility you need.
AfterPay takes away a big chunk of your profit margin with each transaction. With Paythen, you get to decide – you pay a low 1.4% per transaction with no monthly or other fees. You do pay the payment processing fee to Stripe, which is the payment processor.
Paythen is a complete billing and payment system that gives you ease of use, reporting and insights and important features for your customers whereas AfterPay and others are just credit providers.
Paythen is built on top of Stripe – the world's most popular (and in our opinion, the best) online payment processor. This means from day one, you can accept payments in hundreds of currencies.
Yes it does. The Paythen WooCommerce plugin is now available for all Paythen users. Read more about our WooCommerce functionality here. If you're interested in using the WooCommerce plugin, just create your free Paythen account, switch ON the WooCommerce integration, and install our WordPress plugin. Here's a step by step guide.
The current version of the Paythen WooCommerce plugin will let you offer a Payment Plan option on the checkout page. You will have defined some parameters of the payment plan beforehand. Here's an overview:
You install our WooCommerce plugin and configure a few options
On the checkout page, your customers will see a new payment plan option
They will place the order and be taken to the Paythen plan page to complete payment. Your WooCommerce order status will be "On-hold" while they complete payment.
Once they have successfully signed up to the payment plan, they'll be brought back to the WooCommerce order confirmation page and the order status will change to "Processing".
Customers will get an email from Paythen with their payment plan details and dates, in addition to any emails you have configured in WooCommerce
You can see their payment plan and information in the Paythen dashboard
Your customers will be automatically charged for each future payment
Start your 7 day free Paythen trial to see if it's right for you.
Yes, but with an email based workflow. There is no Paythen app for Shopify because of limitations imposed by Shopify. Your customers will get an email with a link to start their payment plan after completing the checkout on your Shopify store. Read more here and check out our Shopify demo store.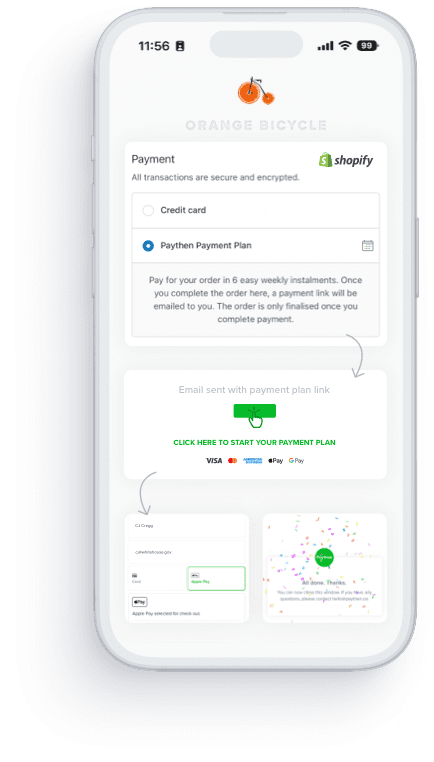 Want more detail? Here's a side-by-side comparison of outsourcing your payment plans financing using BNPL providers vs. retaining control and automating it with Paythen:
| | Outsourcing your payment plans with BNPL | Maintaining control of your customer payment plans with Paythen |
| --- | --- | --- |
| Fees | You pay a lot – usually between 6% and 12% depending on the provider and country. In many industries, this can be a huge part of your profit margin. For longer terms beyond 8 weeks, your customers can pay a high interest rate too. | You pay only 1.4% + Stripe fees |
| Who pays for the fees | Most providers make you sign a contract stating you won't charge extra for their services – forcing you to absorb their fees. This is inherently wrong. You work hard to build your business and brand. A payment provider shouldn't try to dictate what you can and can't charge your customers. | With Paythen, if it makes sense for your business, you can easily add a surcharge to cover fees or other expenses. You can charge this fee over the payment plan, or upfront. You're in total control. |
| Country availability | Most providers are available to businesses in certain countries only. Even the biggest ones are only available if you're based in a handful of countries. Your customers must also be based in the same country. | Available to businesses in 40+ countries with customers anywhere in the world. |
| Eligibility | You need to "apply" and get approved. Only businesses operating in certain industries are eligible. Your customers also need to apply and get approved. In some cases, they must also complete credit checks. | Get started in under one minute – no approvals needed. All businesses across all industries can use Paythen. All your customers can use Paythen with their existing credit or debit cards. |
| Cart value | Most providers restrict the total credit available to customers to between $1,000 and $1,500. If you sell a higher value product or service or if customers have other purchases on a payment plan, they can't buy what you're selling. | With Paythen, there are no limits to the total order value so you can sell high value items without limits. In fact, most Paythen customers sell products and services over $1,000. |
| Flexibility | None. Each provider typically has a fixed repayment period – typically between 4 and 8 payments spread over 1 to 4 months. If this doesn't suit your business, tough luck. For many businesses selling a high value service or product, the amounts per payment can still be quite high, reducing sales. | With Paythen, you have a lot of flexibility – set billing intervals weekly, fortnightly, monthly, or anything you want. Set repayments to be over a few weeks, months or even years if you need. Collect a larger amount upfront, add surcharges, hidden fields, and more. |
| Payment currency | You can only charge in your home currency. | Offer customers payment plans in 130+ currencies. |
| Your brand | Your brand takes a backseat to their brand. All communications and user interactions are from their brand. They build their brand at your expense. | Paythen lets your brand shine while handling the back-end admin for you. Your customers see your branding – your company name, your logo and your colors. |
| Your customers | Once your customers sign up to use one of these services, they essentially become their customer. You lose any direct relationship with the customer, and over time, the providers focus heavily on driving all customers to their home page, not yours. You basically pay these providers in dollars as well as customers. | Your customers are always yours. Paythen is software designed to help you provide a seamless payment plan experience. We don't want your customer relationships.With Paythen, your customer communications and data are always fully controlled and owned by you. |
| When you get paid | You get paid the full amount upfront, less a big chunk of fees. | You get paid as your customers pay, with automated reminders and follow-ups that handle any failed payments. |
| Types of payments | One option only – their fixed payment plan. If you want to sell other types of services or products like subscriptions, you have to mix and match payment providers. | With Paythen, in addition to payment plans, you can offer subscriptions, one time payments, and our unique Pay your way plan that lets your customers choose to pay in full or via a payment plan, for the same product. |
| Where you can accept payments | Limited. You can only use these providers in your ecommerce or physical store. | No limits. Each plan in Paythen gets its own unique payment link that works everywhere – on your website, socials, WhatsApp, text messages, and anywhere your customers are so you can use Paythen in any context. |
| Reporting | Limited reporting on just a portion of your customers. | Unified reporting in a beautiful dashboard that lets you understand what you're owed vs. paid, and lots more. |
Summary
While we are biased, we believe setting and controlling your own payment plans, with your own branding, and critically, your own customer relationships, is a better option for many businesses. The fact that you pay significantly lower fees makes it even better. For certain types of businesses where you must get paid the full amount upfront, despite higher fees and less control, a buy now pay later provider might be more suitable. In fact, some customers even use both Paythen and a buy now pay later provider for different contexts and different products.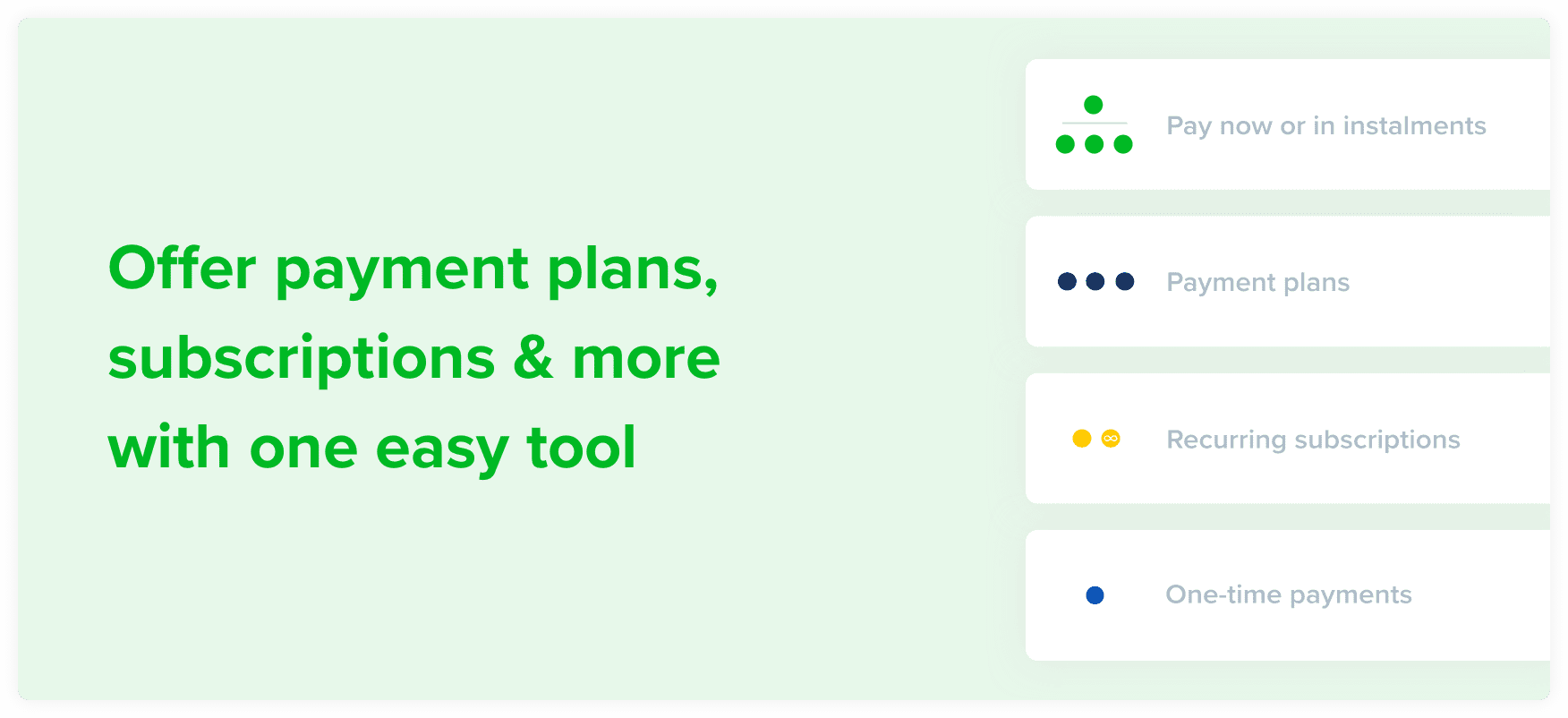 The best way to see if Paythen is the right fit for you is to try it out. There's a 7 day fee-free trial and it takes only a few minutes to get started. If you have any questions, or need a hand getting started, just reach out via the chat icon or email hello@paythen.co – we'd love to help.