Wondering how to offer customer financing? Is it suitable for your business? What are the pros and cons? We answer common customer financing questions, explain the different approaches, and outline easy steps to get started.
What is customer financing?
Customer financing is a way for businesses to offer payment plans to pay for products or services over time. It's a useful and increasingly essential tool helps businesses keep customers happy, sell more, and to avoid losing existing customers.
Why offer customer financing?
The biggest reason to offer customer financing is it typically helps you sell more. It makes what you sell accessible to more customers, which in turn, increases your revenue. It also increases the average order value – customers tend to buy more when you make payments bite-sized and more affordable. Customere are increasingly expecting this as a standard option – so not offering customer financing can lead customers choosing your competitors instead.
Is customer financing right for your business?
While most businesses typically benefit from offering some sort of customer financing, it's not always suitable. Consider what you sell, where and how many customers you have and any risks involved.
The best way to see if it's right for you is to try it out. Implement a quick and easy option and see how it affects your sales and revenue over a few months. Most businesses will typically see more overall revenue and a larger customer base.
Read more: Will customer financing suit my business? Pros & cons to consider.
Customer financing for different types of businesses and industries
Businesess in most industries tend to benefit by offering customer financing options – we go into more depth on each industry below with how you could structure customer financing, potential benefits, and more.
The three different approaches to customer financing – more info and pros & cons of each approach
Using buy now pay later companies for customer financing
Effective but limited. High fees, no control.

Control your own customer financing
(with easy to use software)
Retain full control and pay low fees.
Using a traditional provider for customer financing
Usually complicated, expensive, and clunky.

How to offer customer financing when you're using different platforms, or with different tools

Eventbrite customer financing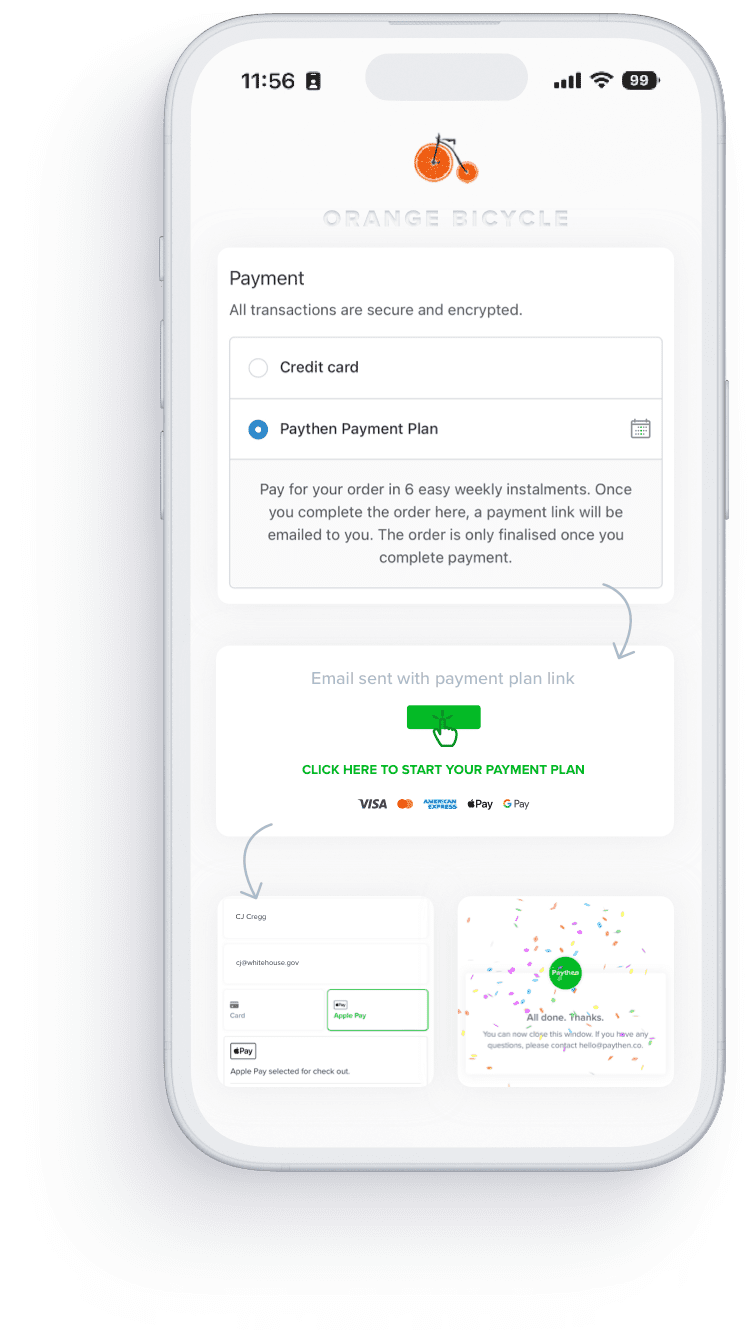 Offer customer financing on your own terms, in minutes.
Try Paythen now with a fee-free trial.
We'll ask you to connect your Stripe account or create a new one once you sign up. Paythen works with Stripe.
Easy payment plans
Offer your customers a flexible payment plan set by you, to increase conversions and sales.
Automated reminders & emails
We automatically send handy reminders before payments & follow-ups if a payment fails.
Integrate with other apps
Send Paythen data to over 3,000 other apps with our Zapier integration.
Encourage early repayments
Offer customers on a payment plan an easy way to repay early at any time – increasing your cashflow.
Change payment info easily
Your customers can change their card info anytime they want, with zero time spent by your team.
We get paid when you do
With our simple, low 1.4%
fee, we only get paid when you do. No fixed or hidden fees. No fees during your free trial either.