Run an eCommerce store on WooCommerce, Shopify or one of the other popular platforms? There are many options available for customer financing – depending on your industry, location and average order value. We outline a few below, as well as the pros and cons of using our easy customer financing tool – Paythen.
To BNPL or not? That is the question.
For certain eligible eCommerce businesses with average orders under $1,500, and with margins big enough to handle a 6-10% cut to buy-now-pay-later companies, and if your customers are from a specific country, outsourcing this critical step can be a viable option, since you take on zero risk, and get paid upfront. However there are downsides to just offering BNPL.
One critical consideration if you're an eCommerce business is how much you value your customer relationships. How expensive is it for you to get new customers?
Buy now pay later companies need volume – they need millions of customers using them every day to make money. They also have lofty valuations and shareholders to keep happy. This often leads to them promoting their own platform and site as a shopping destination for your customers.
This means your customers, who you worked hard to acquire, are more likely to go to afterpay.com or klarna.com for their next shop, instead of your site. On these platforms' sites, your business is just one of thousands, and your previously loyal customers are easily distracted by bigger brands, competitors, and deals.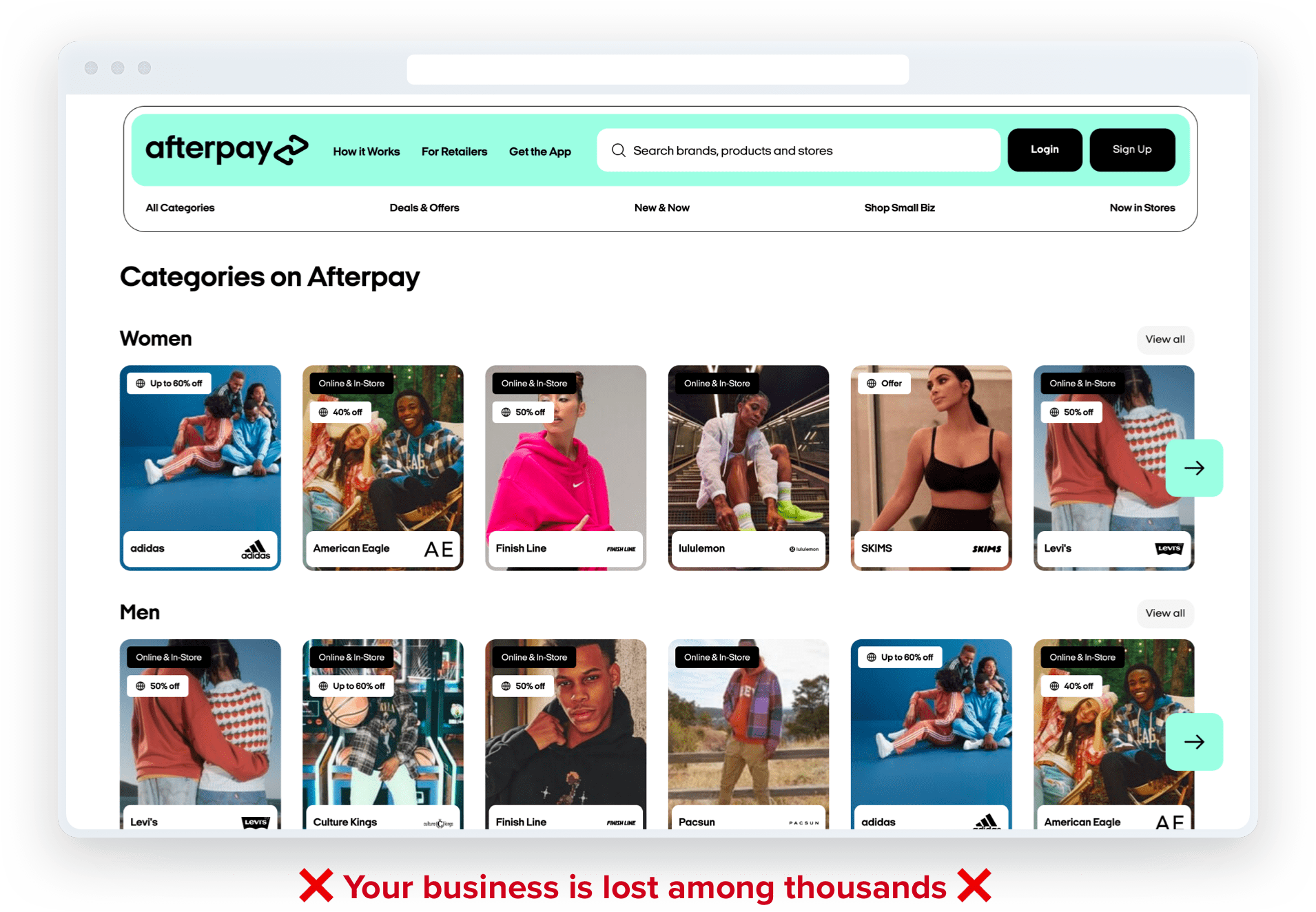 Once a customer has made a purchase using one of these providers, the emails they get are from the buy-now-pay-later company, and not your business. This slowly helps turn your customers into their customers and puts their brand front and center, instead of yours.
If you're a small business trying to build a loyal customer base, consider how much control (of your customers, pricing and brand) you're willing to give up in exchange for getting paid upfront.
Offer flexible customer financing to all your customers for any amount, over any time period, in under 2 minutes with Paythen.
If you choose to manage your customer financing yourself, either using a tool like Paythen, or something else, you maintain full control over your customer relationships, your brand, and your pricing. You also pay significantly lower fees, and can pass these on to your customers if you'd like. BNPL companies "forbid" you from passing on any fees, forcing you to absorb the cost.

With Paythen, you can pass on any fees and add surcharges as it suits your business. You can also structure your customer financing to suit your business – collect a deposit upfront, or even the whole payment plan before you ship, add surcharges and fees if suitable, get customers to agree to a contract when they sign up, and more. You control what you offer, how it works and what it costs.
If you're running a WooCommerce store, Paythen offers an excellent integration with WooCommerce with our own WooCommerce customer financing plugin. You install it, configure a few fields, and you're ready to go with financing on your WooCommerce store. It includes many flexible options like minimum cart amounts, customer-selectable payment plan durations, different billing intervals for different cart amounts and more. See it in action on our demo store here – WooCommerce customer financing demo.
If you're running on Shopify, Paythen has a good email based workflow – but unfortunately no native app because of API restrictions imposed by Shopify. You can read more about our Shopify flow for customer financing here. Or experience this Shopify customer financing demo on our demo store.
For other eCommerce platforms, we don't have native apps or integrations yet but you can use our Zapier app and action to send customers customized payment plan links via email automatically.

Alternatively, you can also add direct links to payment plans within product descriptions – this is a more limited approach but can work for eCommerce stores with not too many items. Talk to us via the chat icon to see if Paythen is suitable for your business and for help getting things set up.
Based on our analysis of millions of dollars of transactions processed through Paythen, over 50% of customers choose a financing option when given the choice.
One key difference between Paythen and BNPL companies for eCommerce businesses is that with BNPL companies, you get paid the full amount (less their fees) upfront and the BNPL company lends customers the credit, essentially giving them a loan they have to pay back. When you manage your customer financing yourself using a tool like Paythen, you are taking on a risk of non-payment. To mitigate or even eliminate this risk, you can collect a larger deposit upfront, delay shipping till most or all the installment payments are made, get them to agree to a legal contract when they sign up, and more.
Of course there is still a risk that you are taking on – it's important to understand and decide if the trade-offs work for you and your business, or not.
With Paythen, you can offer flexible, low cost customer financing that helps increase sales and remain competitive while retaining full control of everything, including your branding. Paythen makes it easy to connect your Stripe account and offer customer financing exactly how you need to, with maximum flexibility and minimal extra admin, regardless of your average order value, customer location or industry.