As a contractor, you know that providing financing can be a powerful way to increase sales and build customer loyalty.
Customer financing allows your customers to spread out the cost of your fees over months or weeks, making it more affordable for them. This leads to more customers for you – making it a win-win.
In this post, we'll discuss the pros and cons of offering customer financing, as well as some different approaches you can take.
What is customer financing?
Customer financing is a way for your customers to pay for your services over time, rather than all at once. This can be over weeks, or months and done using a third-party or easy to use software.
Pros of customer financing for contractors
There are several benefits to offering customer financing as a contractor. Here are some of the most important:
Increased sales
Letting customers pay over time makes your services affordable for customers who might not otherwise have the cashflow to afford them. This can lead to increased sales and more business for you.
Competitive advantage: Offering customer financing can help you stand out from competitors who don't offer financing, and can make your business more attractive to potential customers. It should also help you attract some customers from competitors that don't offer financing.
Customer loyalty
By providing financing, you can build customer loyalty by making it easier for customers to do business with you. Since they are interacting with you over a longer period of time, you can build deeper relationships and trust. This can lead to more repeat business and referrals.
Risks of customer financing for contractors
While there are many benefits to offering customer financing, there are also some potential drawbacks to be aware of:
Increased risk
When you offer financing, you take on some level of risk that your customers may not pay their bills.
More admin
Offering financing requires some administrative work. In the past this would have meant more time and resources spent managing it. Thankfully, with easy-to-use customer financing software like Paythen, there is minimal additional admin.
Approaches to Customer Financing for Contractors
There are several approaches you can take to offering financing to your customers. Here are some of the most common:
Buy now pay later companies
Companies like Affirm and Åfterpay can be an easy way to offer financing – if you and your customers are both eligible. These also charge you a high fee – often between 6 and 10% and don't let you pass on fees to customers. They also tend to have very low maximum amounts – often $1,500 or less, making them unfeasible for contractors.

Traditional financing providers
You can partner with a traditional third-party financing company to offer financing options to your customers. This can be a suitable option for some businesses but typically requires your customers to jump through many hoops and long forms to get approved. They also tend to charge high rates of interest and/or fees to your customers and not all customers are eligible. This can reduce sales and frustrate customers that attempt to use these options.
You can also choose to offer and manage your own customer financing or payment plans. In the past, this was admin-heavy and complex. However, with easy-to-use tools like Paythen, you can retain control and offer financing exactly how you want, with minimal admin. Paythen automates everything including payment plan installments, reminders, re-attempts and more. It also lets your customers serve themselves 24×7 to access receipts, update their payment info and even pay early. You can add one-time fees, admin fees, and configure your plans exactly how you want.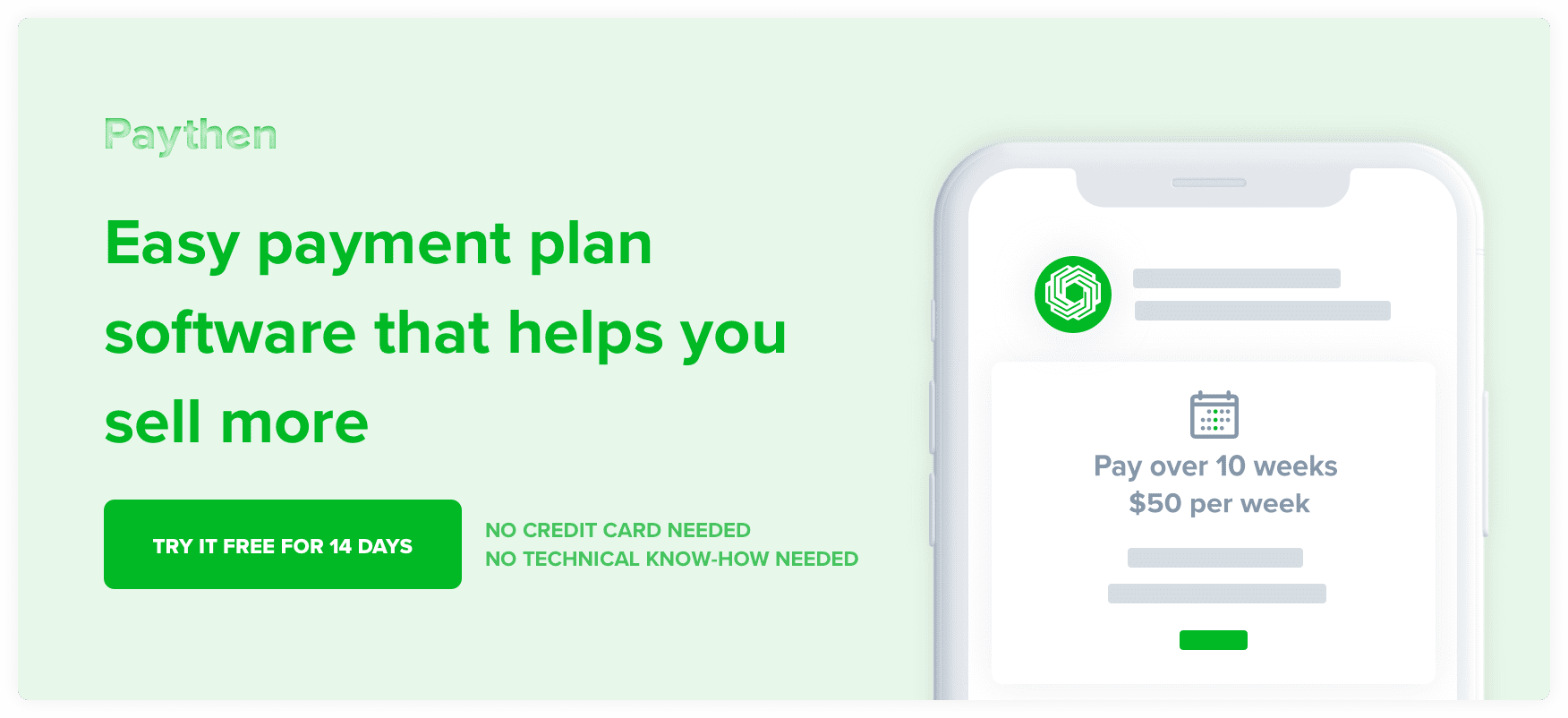 Try Paythen for free with no-risk and no fixed fees and see if it's suitable for you. It takes under 2 minutes to get started.
We're biased but we believe keeping control of your customer financing, customer relationships and brand are critical for all businesses. For this reason, we think Paythen is one of the best customer financing options for contractors.
Summing it up
Customer financing can be a powerful tool for contractors looking to increase sales, build customer loyalty, and stand out from competitors. While there are some potential risks to offering financing, the benefits and increased sales outweigh these.
By choosing the right approach for you, you can successfully offer customer financing and take your business to the next level.