In today's ultra-competitive environment, having flexible payment options can be a game-changer. Many businesses increase revenue and get more customers by offering customer financing. However this isn't a one-size-fits-all solution. It suits some businesses more than others.
In this post, we cover some key considerations and pros and cons to consider whether or not to offer customer financing for your business.
The Pros of Customer Financing
More Sales and Increased Revenue
First and foremost, offering customer financing can significantly boost your sales. Think about it – by letting your customers pay in installments, you're making your product or service more accessible. More people can now afford to buy what you're selling.
Instead of parting with a big lump sum, they can make smaller, more manageable payments over time. This usually leads to more sales, and more revenue over time.
From analyzing millions of dollars worth of payments (processed through Paythen), we typically see between 40% and 60% of customers choose a customer financing option when available and easy to use. While some of these customers would pay in full if that was the only option, many would not.
Enhanced Average Order Value
Customer financing doesn't just help you sell more; it often helps you sell bigger. When customers aren't faced with the prospect of paying a large amount in one go, they're more likely to spend more. The idea of spending $1,200 spread over twelve $100 payments is far less daunting than a one-off $1,000 payment for many people. A small increase in what each customer spends can quickly add up to a lot more revenue for you over time.
Keep Your Customers
As customer expectations evolve, people expect customer financing options to as a standard. If your business doesn't offer these, you risk losing customers to competitors that do. Customer financing isn't just about attracting new customers; it's also crucial to keep existing ones buying from you.
Stay Competitive
Focussing too much on what competitors are doing can be unhealthy. But if most of your competitors offer financing and you don't, it makes your business less attractive to potential new customers. Having a customer financing option that you offer (and have full control over) is a great way to compete. If you're in an industry where most competitors don't offer this, you can turn it into a unique selling point and win new customers.
The Potential Drawbacks of Customer Financing
As with any business strategy, there are some risks to offering customer financing as well. It's important to weigh these against the benefits for you and your business.
Risk of Non-Payment
The most significant risk is that customers may default on their payments. To manage or reduce this, you can fully outsource to a third party like a buy now pay later (BNPL) company, a traditional customer financing provider, or using smart software, implement  strategies to reduce or remove this risk altogether. We'll expand on these below.
Losing your Customer Relationships
With some options of customer financing, you give up almost all direct relationships with your customers. Eg: If you use a buy now pay later company like Afterpay or Affirm, they take over the entire relationship, all communications, branding, and more with your customers.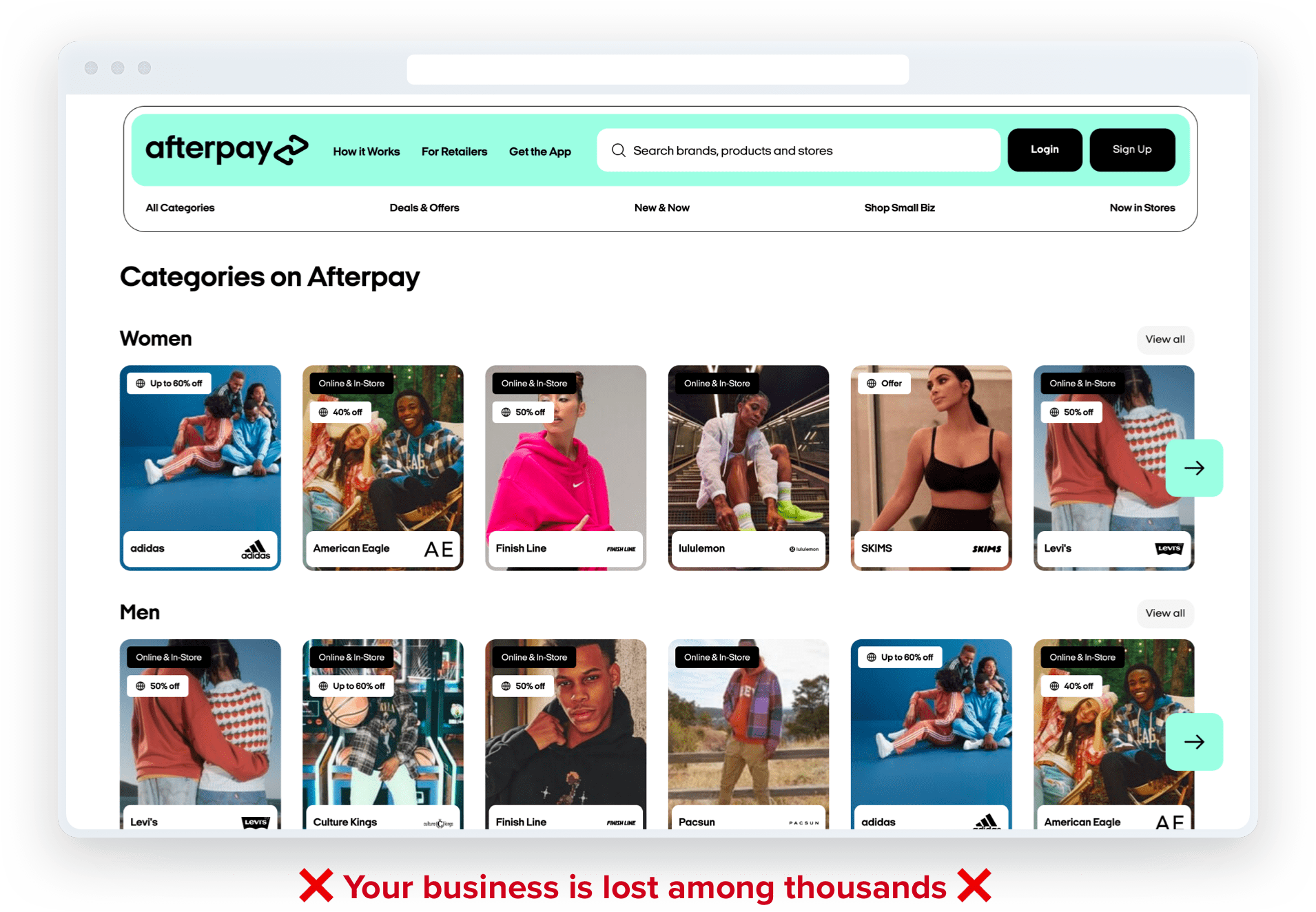 After the initial purchase from you, customers are pushed to start their next purchased from the BNPL platform's sites, not yours. This is a big negative for you as your customers are constantly exposed to your competitors, the BNPL platform and their deals and offers (instead of your business). This reduces lifetime sales, loyalty, and the strength of a direct relationship with your customers.
You can eliminate this downside by offering your own customer financing (with easy customer financing software like Paythen to assist). This way you give your customers options but don't give up control (or your margins).
More Administration
Some customer financing options (like traditional customer financing providers) can mean dealing with more paperwork, tracking payments, and increased customer service. Not to mention a clunky and annoying customer experience. This can lead to  administrative overheads that you'll need to factor into your decision (if you plan on using such a traditional provider).
How can I offer customer financing in my business?
There are a few ways you can approach offering customer financing  (also known as consumer financing):
1. Use a buy now pay later company
If you're eligible and if your customers are in one country, and if you're willing to give up a big chunk of your margins (6-10%).
2. Use a traditional customer financing provider
Usually means a clunky customer experience, each customer needs to get approved, high rates and fees, and lots of fine print. Also only works if your customers are in one country.
3. Control your own customer financing
Helped by easy to use software like Paythen. We're biased but we believe this is the best option for many (not all) businesses.
We go through the first two options in more detail in this post: Customer financing approaches

Paythen: Your Customer Financing Superpower
If you're considering offering customer financing, consider Paythen. It's designed to simplify this process, almost eliminate manual admin, while you keep full control.
Paythen lets you offer financing options to your customers without the hassle. By helping you manage and automate most of the work, we mitigate (or eliminate) many of the drawbacks of traditional customer financing.
You can create easy payment links in under 2 minutes, and share those with your customers. Once they sign up, everything is automated – for them and you. Customers are charged on their payment plan dates automatically, and you get easy reporting and important notifications.
Paythen does the heavy lifting – automatic retries, reminders before each payment, instant notifications (for you and the customer) if a scheduled payment fails, self-serve customer pages, and much more.
There's no ongoing fee either, we only charge a small percentage of any payments processed through Paythen. You can start your fee-free trial of Paythen here. Or keep reading to go deeper on Customer Financing.