Do you sell tours? Or travel packages? Are you a bespoke provider of small guided tours through the Mongolian steppes? Regardless of what type of travel or tour service sell, Paythen is an excellent way to offer customer financing for your travel business.
Consumers are increasingly searching for travel companies and tour operators that let them pay for their holiday over easy to digest installments. Google searches for "book now pay later travel" are at all time highs. Ensure you turn these people into YOUR customers by offering an easy financing option. One that lets you give customers the flexibility they want, without creating additional admin and risks for you, and one that allows you to add fees and surcharges as needed.
For most travel businesses, traditional consumer financing or buy now pay later companies like Affirm, Klarna aren't typically an option – they consider your business model too high risk, or your average order value too high to work with their low minimums. Even if they do, they are not flexible, charge high fees and end up treating you like a commodity. Some traditional financing companies that might allow you to use them make it very hard for each customer – they must be in certain countries, apply for credit, submit documentation, and get approved or rejected.
Offer flexible customer financing to all your customers for any amount, over any time period, in under 2 minutes with Paythen.
With Paythen, you can set up payment plans for any amounts and over any duration and let customers in any country access them. You can create individual payment plan links for each customer or integrate it with your eCommerce platform to automatically generate payment plans for each customer based on their cart totals.
You can easily create different payment links for different packages or tours and share them with customers wherever they are – on Whatsapp, email, text message, or your website. You don't even need a website since each plan has it's own page that works everywhere.
If you're selling a $10,000 tour package that starts in 6 months, you can align your customer financing to that. Eg: You collect an upfront payment, then collect the rest over 5 months, 20 weeks or whatever billing intervals work best for you. A unique new type of payment plan we have called "Date-based plans" now let you collect a deposit amount when a customer signs up, but then align all customers on that plan to specific key dates you've set. Here's a working demo of a date-based payment plan you can sign up to.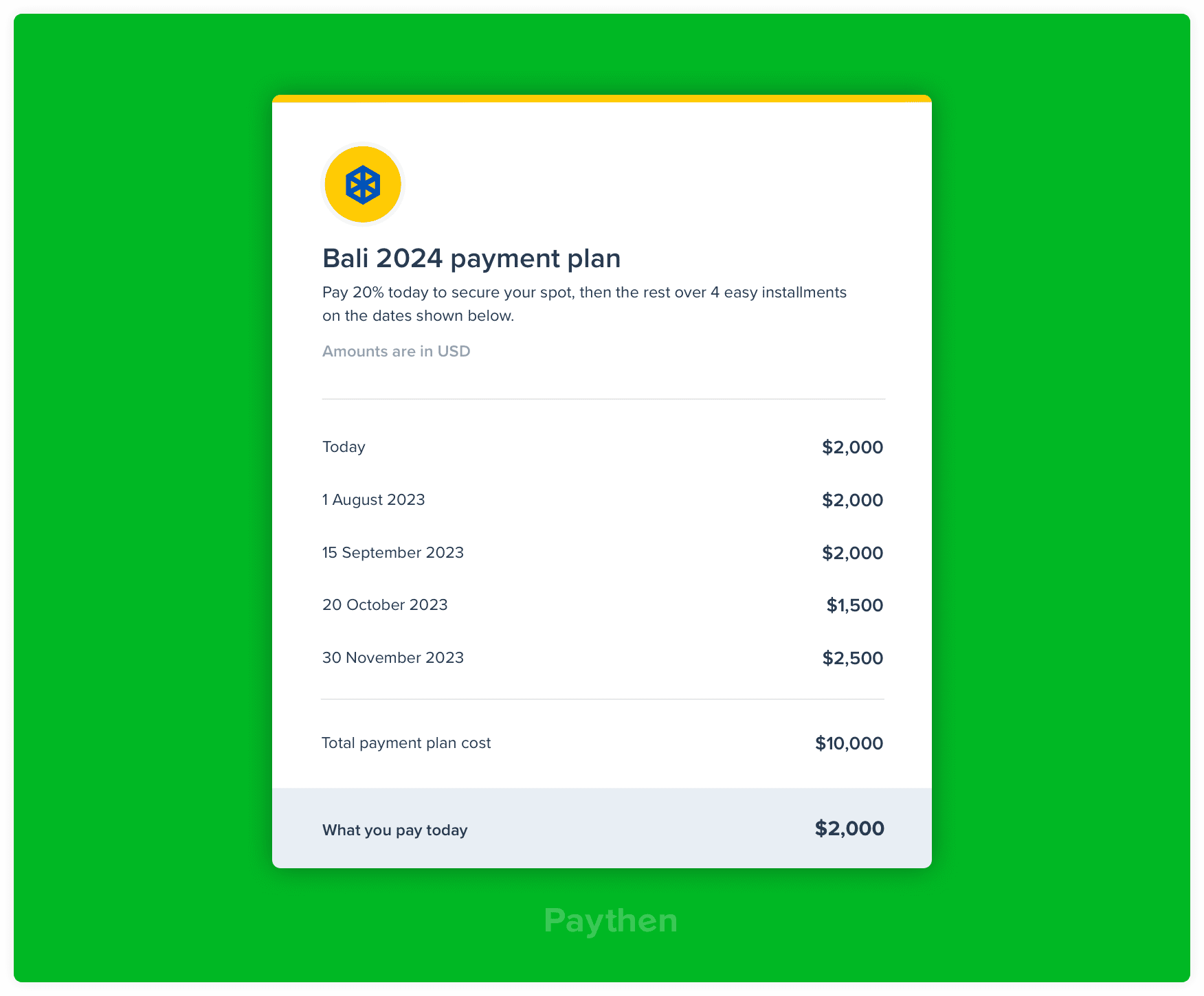 Each customer gets a unique self-serve page like this where they can view receipts, upcoming payments, change their payment info and more themselves 24 x 7 – this reduces support and admin for you and gives your customers a better experience.
Paythen is the most flexible option for travel and tourism businesses to offer customer financing to your customers – letting you be competitive, retain existing customers and attract new ones.